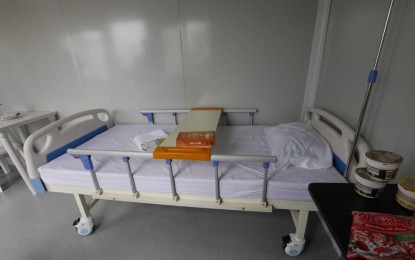 MANILA – As the world continues to grapple with the effects of the coronavirus disease 2019 (Covid-19) pandemic in almost all aspects, patients also put up a battle between life and death including with the anxiety of being in isolation.
Beyond the numbers, stories of survivors prove that through proactive and prompt response of authorities especially in terms of isolating and treating patients, no formidable enemy such as the Covid-19 can dampen one's strong desire to live and face a better tomorrow.
"Julie" (not her real name), 38, was the first patient to be admitted at the 500-bed capacity Lakeshore Hotel Mega-Quarantine Facility in Taguig City, which formally started operations last September 25. Getting infected is the last thing that she wanted to happen in her life.
In an interview over the weekend, Julie recounted that her battle against Covid-19 started on September 27 when an ambulance of the Taguig City government roared in their driveway to pick her up.
"I was the first patient of Taguig's new quarantine facility. When I arrived, I was welcomed by a doctor," she said, recounting that she arrived at the facility around 2:30 p.m. on that date.
Shortly after checking-in and presenting her swab results, Julie said the doctor told her that she can go outside every 7 a.m. to 8 a.m. and 4 p.m. to 5 p.m. everyday.
"My room is pleasant looking. I have food supply available aside from breakfast, lunch, and dinner," Julie said.
The room has two large windows that allow the occupant to see the outside view, thus, easing their feeling of loneliness while in isolation.
Julie, a mother of two young girls, said the hardest part of her isolation was the moment when she misses them.
"The sadness really grips whenever you realize you are alone," she said.
Contrary to what she expected, Julie seemed to have a glimpse of light at the end of the tunnel when she was provided a computer tablet by the local government.
Through a stable internet connection, Julie was able to connect with her loved ones. She also enjoyed the outside view of the facility which she described as "relaxing and peaceful", thus, helping her cope with anxiety brought about by her isolation.
While the facility had its perks, Julie said some workers in the facility were not aware of the rule allowing her to go outside at specific times.
"When I came out at 4 p.m., those who are cleaning said I am not allowed to go out. But I said, 'The doctor allowed me to go out'. But of course, I just decided to go back to my room so they won't be exposed. I informed the doctor about it and he said I can go out at 4 p.m. There was just some miscommunication," she said in Filipino.
Her dinner arrives at around 5 p.m., and after eating, she rests a bit and wait for her family's calls.
Julie admitted to having difficulty sleeping on her first and second night in the facility and observed that hours took longer when one was alone. To pass the time, she decided to work a little and call her loved ones.
On Julie's second day of isolation, a male Covid-19 patient arrived and became her next-door neighbor. On her third day, Julie said another patient arrived whom she managed to talk to. The patient, an asymptomatic, told her that he only learned he was Covid-19 positive after a routine swab test.
From the fourth up to her 14th day of stay and release, nothing new was added to her activities, except for the fact that more patients started arriving in the isolation center.
Also, she said she was quite scared upon learning that her entire family was to be swabbed to determine if they caught the disease from her.
Fortunately, both her husband and two her daughters tested negative for Covid-19.
Julie said the attention given to them by the medical personnel was commendable as they were constantly checked every now and then.
Initially, she said that doctors told her that a confirmatory swab test was needed before she would be allowed to go home but this was later waived.
During her time at the Lakeshore Hotel Mega-Quarantine Facility, Julie said nine other patients joined her.
And before leaving, she added that these patients seemed all fine.
On October 11, Julie received what seemed to be her key to freedom – a health certificate confirming that she is now Covid-19 free.
She also lauded the Taguig city government unit for having its own quarantine and isolation facility and helping their constituents win the battled against the disease.
Meanwhile, 37-year-old "Joy" (not her real name), the eighth patient at the facility, said she only learned that she was positive for Covid-19 after undergoing a swab test at a private hospital in the city on September 29.
Initially, Joy stayed at the hospital for five days before being transferred to the city's isolation center on October 3.
She added that she has nothing but praise for the city government as her transfer to the isolation center turned out smoothly.
"The doctor of the village health center coordinated with my family regarding my status as a Covid-19 positive patient. The city government, through the village, provided food for my family," she said.
Fortunately, Joy's husband and two kids tested negative for the disease on October 5.
Joy also echoed Julie's pleasant experience in the quarantine facility.
"When I arrived, the environment was relaxing. You have your own air-conditioned room and you are given a tablet so you can communicate with your family. You have your own comfort room and doctors are doing rounds twice a day.
She added that the only challenge she encountered was the confusion on the protocol on the discharge date of patients.
"There was a little miscommunication on the protocol regarding the number of days in isolation. At first, I was told that the start date was 14 days from the test result date which was September 29. But it was immediately clarified that it will start on your admission date in the facility," she said.
Joy, meanwhile, hoped that the city government would at least allow relatives of patients to bring some essentials and personal belongings for them.
"There are still room for improvements like relatives can be allowed to bring extra food and essentials and personal belongings of the patients. I stayed in the hospital for a week and I have no personal stuff with me. Since the isolation is 14 days, I hope they can consider allowing that even just once a week," she said, adding that her overall experience in the facility was pleasant.
She also hopes that other local government units would replicate Taguig City's response in battling the pandemic.
The Taguig Covid-19 Lakeshore Mega Quarantine Facility initially opened 70 units while its other sections will be opened over the next few weeks.
The entire complex is expected to be completed in three months, right before Christmas where the city still anticipates a possible spike in Covid-19 cases.
Once completed, the Mega Quarantine Facility will add to the five quarantine facilities in the city that include newly-built structures and repurposed government buildings. (PNA)