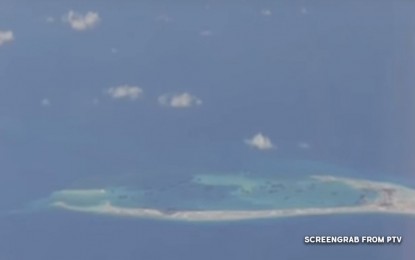 MANILA – Investments in oil and gas drilling are expected to come in as the government lifted the moratorium on energy exploration in the West Philippine Sea (WPS), Department of Energy (DOE) Secretary Alfonso Cusi said Friday.
Cusi said in a virtual press conference that the lifting of the oil exploration ban will help in generating investments at the WPS.
DOE Assistant Secretary Leonido Pulido III mentioned that estimated investments by the service contractors amounted to USD25 million upon lifting the moratorium and a total of USD78 million for the remaining work commitment program period of exploration.
Cusi mentioned that DOE has already advised service contract holders to start addressing their investment commitments in exploring resources in the WPS.
"It has been a long aspiration of our country to attain energy independence, to have our own resources so that we don't need to import. That's why we are fast-tracking this," the DOE chief said in mixed English and Filipino.
Unilateral decision
The lifting of the oil exploration ban in WPS came after the meeting of Foreign Secretary Teodoro Locsin Jr. and Chinese Foreign Minister Wang Yi last weekend.
But, Cusi noted that the decision to end the moratorium is an independent decision of the Philippine government.
"The lifting [of the moratorium] is a unilateral act by the government. It's a unilateral decision to lift the moratorium that was unilaterally imposed in the previous years," said Cusi.
The previous administration imposed a moratorium on exploration and drilling activities in the WPS due to tensions between Manila and Beijing in the disputed waters.
Cusi added that the Philippine government did not inform the Chinese government about the decision to be made regarding the lifting of the oil exploration moratorium ban in the WPS.
"We are trusting China that they will respect our decision, our sovereign decision," he said.
PH economic zone
Last month, the DOE cleared bidders for oil exploration in Nominated Areas Nos. 6, 7, and 8, which are all in the WPS.
Manny Pangilinan's PXP Energy Corporation eyes exploration deal in Nominated Area No. 6, while Dennis Uy's Udenna Energy Corp. targets Nominated Area Nos. 7 and 8.
"They are all within the economic sovereign rights of the country," the DOE chief noted.
These deals are under the Philippine Conventional Energy Contracting Program (PCECP) launched by the department in 2018 to encourage stakeholders to invest, explore, develop, and produce indigenous energy resources.
Cusi clarified that the government's partner for the exploration is the Filipino private companies, with a 60-40 equity rule in favor of the government.
On the other hand, Filipino service contractors can go into a joint venture with foreign firms in their own equity sharing terms.
"Exploration is not on the negative list. It is not an industry that the Constitution reserves only for Filipino citizens. What is critical is that the jurisdiction of the service contract and the sharing mandated by the law and the Constitution is followed," Pulido said. (PNA)