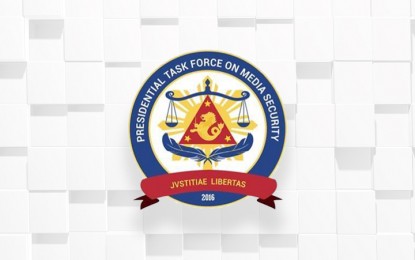 MANILA – In a desperate attempt to evade justice for the killing of Brigada News FM–Kidapawan station manager Eduardo Sanchez Dizon, prime suspect Dante Encarnacion Tabusares a.k.a. Bong Encarnacion has cowered behind the Communist Party of the Philippines – New People's Army (CPP-NPA) terrorist group by joining its ranks in Arakan, North Cotabato, the Presidential Task Force on Media Security (PTFoMS) confirmed.
This was verified in an official report submitted to the PTFoMS by the Armed Forces of the Philippines (AFP), through its public affairs office chief, Capt. Jonathan Zata.
Acting on the Palace Task Force's directive to know the whereabouts of the fugitive, the AFP reported that Tabusares has been broadcasting communist propaganda in his previous program over a local FM station.
"I commend the AFP for its continuing support to the Task Force's initiatives in protecting the life, liberty, and security of all our media workers in the country," said PTFoMS Co-Chair and Presidential Communications Operations Office (PCOO) Secretary Martin Andanar.
For his part, PTFoMS Executive Director, Undersecretary Joel Sy Egco said, "Our suspicion has been confirmed. We received reports earlier this year that Encarnacion had joined the NPA as quickly as the warrant of arrest against him came out."
"The NPA today is nothing more than a coddler of criminals and fugitives from justice. Is this the kind of justice they are espousing? They are just a bunch of ruthless murderers. Tabusares may hide behind this communist terrorist group but we will make sure that he will not be able to evade the long arm of the law forever," the Palace official stressed.
Earlier, Judge Henelinda Molina-Diaz of Kidapawan Regional Trial Court (RTC) Branch 61 ordered the arrest of Tabusares under Criminal Case no. 5281-2019 for the killing of Dizon, along with Junell Andagkit Poten and Sotelo Jacolbe, Jr.
Dizon, a former town councilor of Makilala, North Cotabato, was a blocktime host of the local Brigada News when he was murdered on July 10, 2019.
He was driving his car on his way home to Makilala at past 10 p.m. when motorcycle "riding-in-tandem" gunmen shot and killed him on the spot.
Tabusares allegedly masterminded the ambush of Dizon, who was critical of the KAPA Community Ministry International in his commentaries. Tabusares was the local coordinator of KAPA at the time.
It was the PTFoMS that led the relatives of Dizon to file criminal cases against Tabusares, Poten, and Jacolbe. Tabusares, the blocktimer endorser of KAPA and coordinator for its money market operations in Kidapawan City, threatened to have Dizon killed on his radio show weeks before the incident.
The PTFoMS is on top of the situation and will be relentless in bringing justice for Dizon and all other media workers who are victims of violence as a testament to the government's commitment to protecting press freedom. (PR)