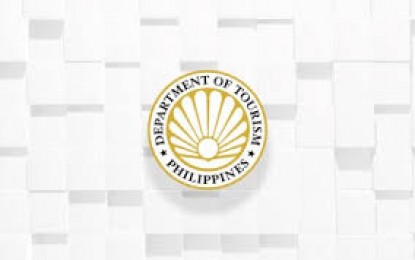 MANILA – The reopening of Baguio City to travelers from Luzon would spur a "swifter" recovery of the Philippine tourism industry that had been reeling from the impact of the coronavirus pandemic since March, the Department of Tourism (DOT) said Saturday.
Baguio is set to start accepting tourists from Luzon, particularly the National Capital Region (NCR) and Regions 2 and 3, starting on October 22 with 200-daily carrying capacity.
New health and safety measures would be finalized anew together with the Inter-Agency Task Force for Emerging Infectious Diseases (IATF-EID) Technical Working Group (TWG).
Requirements for tourists, meanwhile, would be relaxed through the Baguio Visitor Information and Travel Assistance (VISITA), which has received an encouraging number of 2,000 registrations and some 200 travel requests since it officially launched on September 22.
The agency said booking itineraries through a DOT-accredited tour agency is "now optional" but guests are still required to book in an accredited accommodation establishment issued with a Certificate of Authority to Operate.
"Now that we have an actual visitor count, the city has an important reference point and valuable feedback on how to move forward from this initial opening period," Tourism chief Bernadette Romulo-Puyat said.
The DOT, through the Tourism Promotions Board (TPB), funded the VISITA program to assist Baguio's initial reopening for the Ridge and Reef travel corridor or La Union, Pangasinan, Ilocos Sur, and Ilocos Norte (BLUPISIN).
"It was a privilege to be working closely with the local government of Baguio during this process. We witnessed first-hand how they came up with effective policies to find the delicate balance between ensuring public safety and reopening for tourism to bring back jobs and livelihoods lost to the pandemic," the Tourism chief said.
"The Ridge and Reef Project is one of the pioneering efforts to get our industry back on track, and the whole country is watching closely. Everyone's determination to get the job done responsibly has been truly inspirational," she added.
The expansion of the green lane to include nearby towns La Trinidad, Itogon, Sablan, Tuba, Tublay or the so-called BLISTT is also being worked on with the respective local government units (LGUs).
"With its vision to promote a green, peaceful, and family-oriented tourist destination, we are counting on the BLISTT Tourism Council to be a strong ally in the DOT's ongoing thrust for sustainable tourism development. We commit to support its endeavors as we work with local government units in the coordination and preparation of the area's eventual reopening," Romulo-Puyat said.
Almost seven months since the first lockdown was imposed in the country, the DOT said Baguio has improved its capacity in terms of critical health care and isolation centers, the addition of newly trained contact tracers to an already efficient team, and the creation of a new triage center for tourists at the CAP Convention Center.
The pilot study for antigen testing is also now in its final stages, which may pave the way for use to screen potential visitors.
"Since this method is cheaper than the RT-PCR, the gold standard for Covid testing, allowing the use of antigen tests, will surely be welcomed by visitors," Romulo-Puyat said. (PNA)