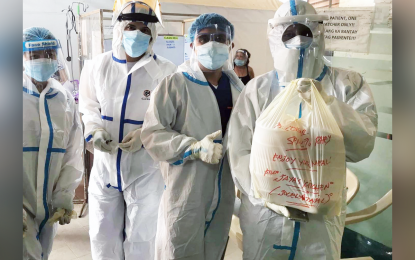 DAVAO CITY – A former village councilor here has risen to the challenge following the coronavirus disease 2019 (Covid-19) pandemic, enlisting her friends to provide meals to front-line workers who are in the thick of the city's Covid-19 response.

For Jocelyn Tapic, the idea to hand out home-cooked meals to Covid-19 front-liners started at her pantry.

"I started in March during the implementation of the enhanced community quarantine (in Davao City). The advocacy was materialized when I was scrolling through my Facebook Page and saw the efforts of the front-liners in helping the people combat Covid-19," Tapic told the Philippine News Agency in an interview Saturday evening.

"From then on, I opened my pantry and saw that I have more than enough supplies of food, and right at that point, I started cooking a meal for them (front-liners)," said Tapic, who has also served the local government for many years as a social worker and medical personnel.

Tapic said it was her and her friends' way of easing the burden of front-liners, who are experiencing the most "difficult times and circumstances in their lives".

Aside from the front-liners, Tapic and her small group of friends also provided home-cooked meals for the homeless every day.

Since the feeding activity began in March, she said she's surprised that her "feeding ministry" managed to sustain until this day.

"I got hooked on cooking and preparing meals every day. Sometimes when our supplies would run out, my friends would call me and offer meat, spices, cooking oil, and others. It is indeed true that when you are doing something good, God will really provide what you need," Tapic said in the vernacular.

It also helped a great deal, she said, that Mayor Sara Z. Duterte, Congressman Paolo Z. Duterte, and Senator Christopher Lawrence Go also supported her advocacy by providing rice and other ingredients for the meals.

Tapic made it clear, however, that her group does not solicit food items and other assistance from any government officials, but that those who want to contribute are welcome to do so.

As she has proven in the months since she and her friends started the meal distribution activity, she said small acts of kindness, a little sacrifice, and a dash of kindness are enough to sustain the initiative.
"This is my share of helping the city government in extending help to the front-liners. I hope that through this, we will be able to express how thankful we are for their efforts," she added.

Food preparation

Every night, Tapic and her family members and some friends would prepare the ingredients needed for the next day's menu.

At 7 a.m., she will start cooking and prepare the packed meals.

"I am very keen about food handling. I want to make sure that what we are serving is clean and delicious comfort food," she said.

The food distribution has caught on her that she has found new affinity with her kitchen, which she now calls "Jaya's Kitchen" just to give it an identity and perhaps, recognizing its value to her "feeding ministry".

"Jaya's Kitchen is my kitchen. It is better to put a tag like that so they can remember that it is cooked with love and not my name because I am not doing this to get famous or something. I just wanted to help," Tapic said.

Inspiration to others

Tapic said she hopes her mission would spark inspiration for others to do the same, recounting that when she first distributed home-cooked meals for the staff and Covid-19 patients at the Southern Philippines Medical Center (SPMC) in March, she never felt such joy in her heart seeing the faces of the thankful recipients.

"You don't need to be rich to help others. If you see that your pantry has a lot of food supplies, try to share it with others," Tapic said. I'd be very happy if they will replicate the initiative to their communities."

"I hope they will realize that like me, an ordinary person and not rich, they have the potential to help others in their own little way," she added.
On May 19, Tapic was among the people who were recognized by the Davao City Council for their contribution in the city's fight against Covid-19.

The citation reads: "the City Government of Davao would like to express its heartfelt and profound appreciation and gratitude to the donors who stepped up during this time in the city's fight against Covid-19. Their support helped us lead the way in responding to this unprecedented global health crisis. These are extraordinary times. Thank you for standing with us."

"There's a lot of people who are messaging me asking for help. I guess God doesn't want me to stop. As long as my finances can still support my advocacy, I will continue it," Tapic said.

With the implementation of earlier curfew hours in the city, she said that she and her team will be distributing lunch packs and snacks to poor families. She also bared that before the end of the month, she plans to adopt a community to feed indigent children.

"I wanted to thank my team, they too are front-liners. To my family who worked with me in this advocacy, thank you very much," Tapic said. (PNA)