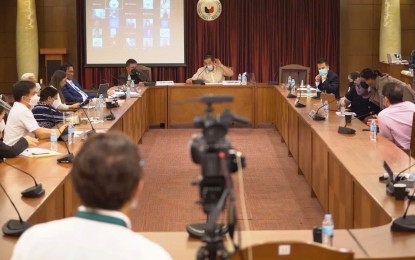 MANILA – The House of Representatives has introduced institutional amendments to next year's spending bill amounting to PHP20 billion divided among departments and agencies that need more funding.
House committee on appropriations vice chair Joey Salceda said the small committee, tasked to receive and resolve amendments to the proposed PHP4.5-trillion national budget for 2021, has reached a consensus to only include institutional amendments and consider all individual amendments during the bicameral conference committee meeting with the Senate.
"The House version of the 2021 budget is now ready for submission to the Senate as the small group had the consensus to consider only institutional amendments, departmental errata, and consider individual amendments during the bicam," Salceda told reporters after the meeting of the small committee on Monday.
With this development, Salceda said the probability of a reenacted budget for next year is zero.
"[The 2021 national budget] empowers the government to confront socioeconomic impacts of the pandemic and restore the Philippines as a nation state to its trajectory of growth, maintain macroeconomic stability and make growth gains sustainable," Salceda said.
He said the PHP20 billion will be sourced from the unprogrammed funds of the Department of Transportation.
He noted that a total of PHP5.5 billion will be allocated for the procurement of Covid-19 vaccine, PHP2 billion for the Health Facilities Enhancement Program, and PHP300 million for implementation of mental health program.
Also part of the institutional amendments aimed at boosting the country's Covid-19 response efforts are the PHP4-billion funding for the Tulong Panghanap Buhay sa Ating Disadvantaged/Displaced Workers (TUPAD) program of the Department of Labor and Employment; PHP2-billion allocation for the Department of Social and Welfare and Development to assist Filipino families critically impacted by the pandemic; PHP1.7-billion allocation will be added to the budget of the Department of Education to provide internet connection for public schools.
Meanwhile, PHP2 billion will be given to the Armed Forces of the Philippines for the acquisition of two C-130 airplanes and PHP100 million will be provided to the Philippine National Oil Company for renewable energy and energy sufficiency programs.
The Philippine National Police-Department the Interior and Local Government will receive an additional budget of PHP2 billion, while the Energy Regulatory Commission will receive an additional P100 million. (PNA)