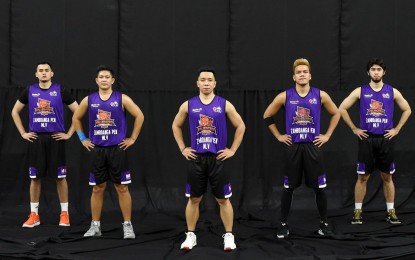 MANILA – Zamboanga Peninsula coach Joseph Romarante said the region's residents are happy to see a team made up of homegrown talents representing the area in the Chooks-to-Go Pilipinas 3x3 President's Cup.
"The Zamboangueños are very proud of this team since this is the only team that has full-blooded Zamboangueños representing the province," Romarante said on Monday regarding the club known in the regional basketball circuit as the Valientes.
Leading the way for Zamboanga Peninsula is former Philippine Basketball Association and Asean Basketball League veteran Rudy Lingganay, who remains a reliable point guard.
Joining him in the Valientes' official roster for the tournament are Gino Jumao-as, Darwin Cordero, Das Esa, RR De Leon, Med Salim, and Jon Rebollos, all calling Zamboanga City their birthplace.
Lingganay, Jumao-as, De Leon, and Med Salim are the players suited up for them in an ongoing preseason tournament at the Inspire Sports Academy in Calamba.
"This is a big opportunity for the Valientes to be able to play in the first professional 3x3 league in the country, and we want it to be more meaningful since we are the only team that will represent Zamboanga with all players born from Zamboanga," Team Manager Rolando Navarro said.
Navarro's group, MLV, actually has two representatives in the President's Cup that will begin on Wednesday as Ryan Buenafe, Jan Jamon, RJ Argamino, Austin Fabian, Alex Mohamad, and Marvin Forniza play for Pagadian City.
The Chooks-to-Go Pilipinas 3x3 President's Cup will happen on Oct. 21, 23, 25, 27, and 30. (PNA)