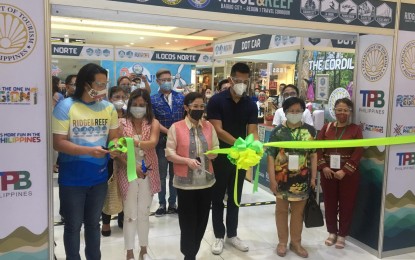 MANILA – The developments in the Ridge and Reef Corridor in Luzon serve as a "milestone" in the country's bid to spur domestic tourism recovery amid the pandemic, Tourism Secretary Bernadette Romulo-Puyat said Tuesday.
"The combined initiatives under the Ridge and Reef Travel Corridor have shown that through close collaboration between local and national government units and the private sector, we can slowly piece the tourism industry back together and make it more capable of thriving in the new normal," Romulo-Puyat said.
The Tourism chief is in Ilocos Norte to support the Region 1 Tourism Convention, where the Corridor Plan between Baguio City and the provinces of La Union, Pangasinan, Ilocos Sur, and Ilocos Norte (BLUPISIN) was formally launched.
Ilocos Norte reopened to the rest of Luzon tourists last Oct. 15, including those coming from general community quarantine (GCQ) areas. This marked the second phase of the Corridor Plan, with the first phase being the Intra-Corridor Travel between Baguio City and BLUPISIN that opened on Oct. 1.
As of this posting, a total of 199 accommodation and tourism establishments in Ilocos Norte have been given Certificates of Authority to Operate (CAO) by the DOT.
With the strict enforcement of health and safety protocols in tourism establishments and borders, Romulo-Puyat expressed optimism on an expanded Ridge and Reef Travel Corridor for reopening tourism in the entire Philippines.
DOT continues to conduct relevant training among tourism stakeholders in Region 1 as it assists in optimizing the region's border control facilities including the Provincial Tourist Triage Center in Pinili, Ilocos Norte to become Tourists One Stop Shops (TOSS) or 'green lanes' that would enable visitors to experience a fast and seamless border check and control procedure.
Through the Tourism Promotions Board, DOT is also developing a Region 1 Visitor Management System and Online Application, akin to the VISITA platform it provided to Baguio City.
"Using this digital multi-platform, the region can easily monitor visitor influx and mobility, as well as to conduct fast and efficient contact tracing when the need arises," Romulo-Puyat said.
"As data is expected to build up in the system through years of use, it also holds the potential to become a reliable source of visitor arrival data for the region," she added.
The tourism chief, who traveled to Ilocos Norte by land, underwent the province's process for incoming tourists, which includes mandatory triage, and online pre-registration at the www. ilocosnorte. ph website.
As more destinations gradually reopen, Romulo-Puyat called on local travelers to "take time to educate yourselves of the entry protocols in the destinations that you intend to visit".
"Once you have entered the destination, please follow and respect the rules, and observe minimum health protocols for your own safety as well as the safety of the local community in the place you are visiting," she said. (PNA)