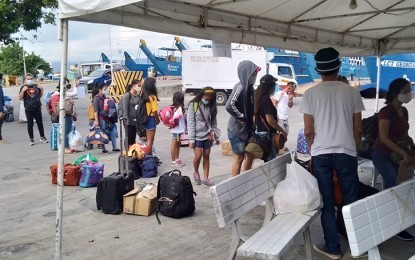 DUMAGUETE CITY – Julian (not his real name), a front-liner in his mid-40s, is now isolated from his family and colleagues after being in contact with an allied health worker who was exposed to a coronavirus disease 2019 (Covid-19) case.
This, after moving around the province of Negros Oriental and within his hometown for the past several months since March, when quarantine restrictions were first imposed, as he attended to many locally-stranded individuals (LSIs) and returning overseas Filipinos (OFWs).
"Baling agwanta namo nga mag-suot ug PPE, usahay magutman, dili maka adto sa banyo kung magsuot ug hazmat suit, kulang ug tulog, kapoy, ug karon, mao ni ang nahitabo sa amoa (we have endured wearing PPE or personal protective equipment, sometimes we go hungry, cannot go to the bathroom when wearing hazardous materials suits, are deprived of sleep, exhausted, and now this happened to us)", he said, asking anonymity for safety reasons.
Julian said he and a few other front-liners, while on a trip up north last week, came in close contact with their female friend who was later traced to be a direct contact of yet another allied health worker who tested positive for the coronavirus.
And since they are considered second-generation contacts, they are now under quarantine while waiting for their own test results.
"Ang among barkada wala pa naabot ang iyang swab result pero gi-warningan na mi daan kay ang iyang mama nag manifest man ug symptoms (our friend is still awaiting her swab result but she already warned us because her mother had manifested symptoms already," he said. "We were exposed unknowingly to the direct contact of a positive case."
What concerns Julian is that the source of infection among this particular group has not yet been determined and that many people are now being monitored for symptoms.
Julian is just among the many hundreds of quarantined individuals in Negros Oriental for being a contact, regardless of what level, to a Covid-19 positive patient as cases surged in the province in recent weeks.
Now, he is joining the bandwagon of netizens, residents, and other sectors calling for people to stay home.
While there is still no official pronouncement from health authorities here of community transmission, local transmissions of the novel coronavirus have already been reported in some towns and cities, and even at the barangay level.
A group of doctors belonging to the Negros Oriental Medical Society in a press briefing on Thursday urged the public to do a self-imposed quarantine to help stem the spread of the virus. According to the physicians, the situation here is "alarming".
While acknowledging the need to strike a balance between allowing the local economy to recover and protecting the health and safety of the people, the doctors are appealing to people to do away with non-essential trips outside of their homes, as well as avoiding mass gatherings.
"Let us not think of ourselves but tanan sa Negros Oriental (all residents of Negros Oriental)," Dr. Dehuel Cuyacot, a pulmonologist said.
Cuyacot said that for every person afflicted with the virus, he or she can contaminate up to seven or eight people, and the same number will multiply further.
Dr. Bryan Calinawan, for his part, said that the real situation here is still uncertain as hundreds of test results have yet to be released while pointing out that many people are going about their daily routines as if there is nothing to worry about.
"Wala pa kita nahuman aning problemaha (we are not done yet with this problem)", he said.
The doctors are calling for stricter measures to stem the spread of the virus, amid growing fears of rising cases widely linked to authorized persons outside of residence (APORs) who returned early this month from a trip to Metro Manila.
Dr. Caesar Antonio O. Ligo, another pulmonologist, in an interview said that "our medical group is advocating self-ECQ (enhanced community quarantine) for the next two to three weeks since it is not economically feasible for the government to implement and sustain it."
"We have a super spreader in our midst and aside from the usual health protocols, limiting movement, assemblies, and gatherings should significantly slow down the virus spread," he added. He was referring to an APOR whose timeline showed that he had visited so many places and had come into contact with many people days before he was tested positive for the coronavirus.
That person's movements alone had led to the temporary shutdown of several institutions that he visited for disinfection, while his companions who were also infected with the virus had their own individual timelines that showed more contacts in places here and outside of this capital.
Asked if the province and the capital city (where the majority of the bigger hospitals are located) are ready for widespread infections, he said "we do not have enough rooms" for Covid-19 patients.
Dr. Candace Catacutan, also a pulmonologist, in a Facebook post that was shared by her colleagues, said that "we are seeing a sudden increase in cases daily now. Each positive patient will have their own set of contacts who got infected and so on and so forth."
"The virus will not wait for our protocols (and so) we need to limit the movement of people ASAP," she added.
The doctors are pushing for work-from-home arrangements, going out only for essential errands, no dining out and opting for food delivery, avoiding large gatherings, as well as the usual observance and practice of health protocols.
Julian's call for honesty by those who have been exposed to infected patients or even up to the Nth degree of contacts is widely shared by many residents who are fearful that the cases in Negros Oriental might just blow out of proportion if strict regulations are not put in place.
He said it is better to be honest and subjected to quarantine while "riding out the storm", regardless of the test results, than unnecessarily exposing more people to the deadly coronavirus.
"It is a sacrifice that will benefit the entire population of Negros Oriental, and I'm praying I will turn up negative of the virus. Until then, we will have to find ways to entertain ourselves in the quarantine facility, and once we're ready, we will be going back to doing what we have been doing as front-liners," he added.
"Please stay at home and heed the call of the doctors and other authorities. And always observe proper health and safety protocols," Julian said. (PNA)