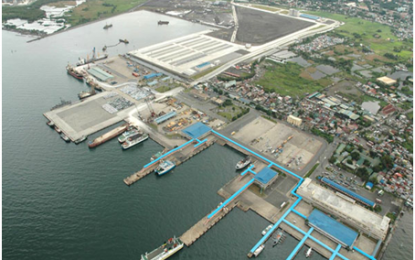 MANILA – At least 577 passengers were stranded in several ports in Southern Tagalog, Bicol, and Western Visayas due to Typhoon "Quinta," according to the Philippine Coast Guard (PCG) on Monday.
In an advisory, the PCG said a total of 577 passengers, truck drivers, and cargo helpers, 473 rolling cargoes, 21 vessels, and 10 motorbancas were stranded in 23 different ports in the country, with 121 more vessels and 52 motorbancas taking shelter as a precaution against the typhoon.
"The PCG Command Center is on 24/7 monitoring to strictly implement guidelines on the movement of vessels during heavy weather. Meanwhile, Coast Guard Districts, Stations, and Sub-Stations across the country are on standby to respond to emergencies, in coordination with local government units and disaster response teams," the PCG said.
In the Southern Tagalog region, it said 420 individuals, 16 vessels, 10 motorbancas, and 409 rolling cargoes were stranded as of Monday noon, with 80 vessels and 50 motorbancas taking shelter from Quinta.
Ports in the area include Batangas Port, Calapan Port, Roxas Port, Bulalacao Port, Lucena Port, Cawit Port, Balanacan Port, Romblon Port, Carmen Port, Looc Port, Santa Fe Port, Real Port, and Dinahican Port.
In the Bicol region, a total of 64 individuals, five vessels, and 21 rolling cargoes are stranded while 36 vessels and two motorbancas are taking shelter.
These are in Port of Pioduran, Port of Tabaco, Port of Pilar, Port of Masbate, Port of San Jacinto, Port of San Pascual, Cataingan Port, Port of Aroroy, and Port of Pasacao.
In Western Visayas, 93 individuals and 43 rolling cargoes are still stranded, while five vessels are taking shelter in Caticlan Jetty Port, Tabon Port, Dumaguit Port, and New Washington Port.
Passengers' rights
In a media bulletin, the Maritime Industry Authority (MARINA) reminded passengers and ship operators alike of the rights of passengers amid canceled or delayed voyages as stated in MARINA Advisory 2020-076.
Under the advisory, passengers have a right to refund, revalidate a ticket, and right to amenities in the event of a canceled or delayed voyage.
These include allowing refunds without deductions or additional charges even with the option of revalidation for future use, provision of amenities such as free meals, access to first aid and medicine, access to communication facilities, and accommodation if necessary.
"Passengers may cite their right to refund regardless of the nature or cause of the cancellation or delay. Ship operators may only deny refunds or revalidation of tickets if the cancellation or delay of their trip can be attributed to the fault of the passenger," MARINA said. (PNA)