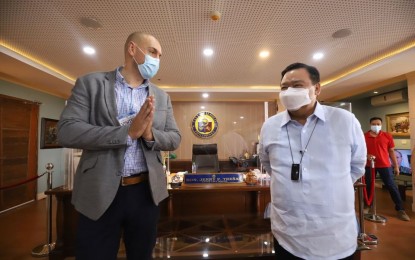 ILOILO CITY – Asurion, a global technology support firm, is expanding operations to this city, bringing in 1,200 jobs for Ilonggos and responding to the growing consumer demand on tech support for phones and smart home devices.
Gareth Boulton, Asurion director of care operations in the Philippines, said that since last year, they have been searching for a new site after deciding to expand from their current base in Luzon.
"When we came to Iloilo, it was special. It was very different," he said during a press conference at the city hall Tuesday.
Boulton cited the people here and the firm's location inside the Megaworld's Iloilo Business Park (IBP) in Mandurriao district.
The company will be located at the 76,000-square-foot new office space at the IBP's Two Fintech Place. It provides additional office space to accommodate future growth.
"So far, we have everything that we need. We are open now to recruit and we will be interviewing in the next months and we will be launching mid-January," he added.
Asurion will provide next year 1,200 full-time jobs for technical support customer care representatives. There will also be additional human resources, operations, training and support positions in the same year.
Boulton said that apart from delivering insurance warranties for devices, another side of their business is technical troubleshooting.
The firm will also ensure that safety and social distancing guidelines and protocols are in place in accordance with the recommendations of the World Health Organization (WHO), the US Centers for Disease Control, the Department of Health (DOH), and the local government.
"We only plan to field 50 percent capacity because we want to make sure there is social distancing, there is the requirement of hand sanitizing, the masks, everything that we have to ensure the protection of our employees," he added.
Meanwhile, Iloilo City Mayor Jerry Treñas expressed happiness for the job opportunity for Ilonggos.
"I have always thought that the city government should always try to do its best to attract investments so that we can provide employment for our graduates," he said Tuesday.
Treñas added Iloilo City is "producing more graduates than any city in the Visayas".
"We will assure you that you will find very good graduates in Iloilo City," he told Boulton.
Asurion has over 19,000 employees worldwide and has operated in the Philippines since 2009.
It currently employs more than 4,000 people across three facilities in the Philippines, including a distribution center in Calamba City, an information technology (IT) services facility in Manila, and a customer service center in Santa Rosa, Laguna. (PNA)