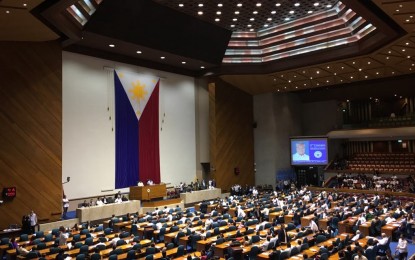 MANILA – Speaker Lord Allan Velasco on Tuesday said the House of Representatives is fully supportive of President Rodrigo Duterte's directive for the conduct of a large-scale investigation into allegations of corruption in the entire government.
"We fully understand that the President is doing this out of his frustration over chronic corruption in government, and the House leadership is one with him in his desire to rid the bureaucracy of corrupt officials and employees in the remainder of his term," Velasco said in a statement.
In a pre-recorded speech aired Tuesday, the President has ordered the Department of Justice (DOJ) to investigate corruption allegations "in the entire government", particularly with special focus on the corrupt-ridden Department of Public Works and Highways (DPWH).
Velasco noted that the President issued the directive following incessant attacks against the House due to the alleged involvement of some of its members in corruption activities in the DPWH.
"While we are saddened that some congressmen and the institution have been dragged into this controversy, we welcome such probe by any government agency, as an investigation by the House would be self-serving and would only create a cloud of doubt," Velasco said.
Duterte said the DOJ may also prosecute and file appropriate charges against those involved in anomalies investigated whether against the government or private person as may be warranted by evidence gathered.
"The power and authority of the DOJ under existing laws and previous directives to investigate the commission of crimes and prosecute violators shall not in any way be diminished by this directive," he added.
Duterte said the directive would be in effect until June 30, 2022, unless sooner lifted or revoked.
While recognizing that the Office of the Ombudsman has the power to investigate and prosecute government officials and employees, Duterte said the Office of the President can also conduct its own investigations and file cases.
Last week, DPWH Secretary Mark Villar has created the Task Force Against Graft and Corruption that would look into the supposed corruption within his agency.
Duterte has repeatedly absolved Villar of any wrongdoing. (PNA)