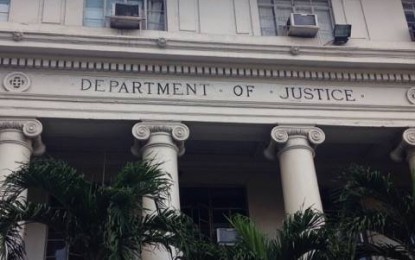 MANILA – Justice Secretary Menardo Guevarra on Wednesday said President Rodrigo Duterte's orders for his agency to go after perpetrators of corruption in government will mean twin goals -- prosecuting offenders and preventing corruption in the bureaucracy.
Speaking to newsmen, Guevarra clarified that the Department of Justice's (DOJ) findings on its graft investigations are not merely recommendatory but the initiation of criminal charges.
"We have a twin goal, one is to prosecute those whom we shall find, after due investigation, to have been involved in corrupt practices. Our output is not just recommendatory. we shall file cases directly with the Ombudsman. Our other objective is preventive in nature; install anti-corruption mechanisms in govt agencies, educate the citizenry on the evils of corruption, promote values of integrity and civic-mindedness, and the like," Guevarra said.
On Tuesday, the DOJ chief called for the entire bureaucracy's support to his office that would take the lead in the Duterte administration's anti-corruption crackdown.
Guevarra met with senior DOJ officials, including Prosecutor General Benedicto A. Malcontento and NBI officer-in-charge (OIC)-director Eric B. Distor on Tuesday to discuss the organization of the task force to investigate allegations of corruption in the entire government.
It was agreed during the said meeting that the core group constituted for the task force to investigate allegations of corruption in the Philippine Health Insurance Corp. (PhilHealth) would be the same core group to investigate allegations of corruption in the entire government.
The core group, headed by the DOJ, is composed of the National Bureau of Investigation (NBI), Presidential Anti-Corruption Commission (PACC), Office of the Special Assistant to the President (OSAP), National Prosecution Service (NPS), and the Anti-Money Laundering Council (AMLC).
The task force shall also invite the Commission on Audit (COA), the Civil Service Commission (CSC), and the Office of the Ombudsman to work together with the Task Force, with due consideration for their independence as constitutional bodies.
In a recorded public address, Duterte said the DOJ may also prosecute and file appropriate charges against those involved in anomalies investigated whether against the government or private person as may be warranted by evidence gathered.
He added that the directive would be in effect until June 30, 2022, unless sooner lifted or revoked. (PNA)