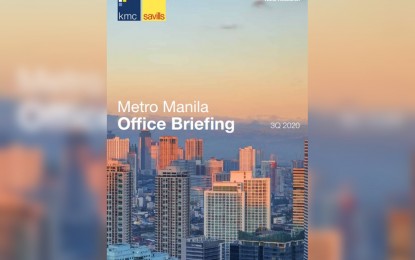 MANILA – Real estate services firm KMC Savills said it is possible that rental rates for office spaces in the National Capital Region (NCR) will contract by the end of 2020 compared to the price levels in 2019.
In its Metro Manila office briefing Wednesday, rental rates of all markets have declined by 0.2 percent quarter-on-quarter.
In third quarter of 2020, average net rental rate in Makati central business district (CBD) was at PHP1,146.10 per square meter (sqm), PHP1,035.40 per sqm in BGC, PHP869.50 per sqm in Bay Area, PHP753.80 per sqm in Quezon City, PHP694.20 per sqm in Ortigas Center, and PHP694 per sqm in Alabang.
Year-on-year, overall office rental rates, however, grew by 1.6 percent in July to September compared to the same period last year.
Moreover, KMC Savills said the impacts of Covid-19 pandemic continued to affect the office market in Metro Manila as vacancy rates climbed anew in the third quarter.
KMC Savills reported that the average vacancy rate of office space in the NCR in the July to September period went up to 7.3 percent compared to the 5.4 percent vacancy rate in fourth quarter of 2019, or increasing by 1.9 percentage points.
This is the second consecutive quarter that office vacancy rates increased.
Among CBDs in NCR, the highest vacancy rate was seen in Ortigas Center at 17.6 percent in the third quarter of the year.
This was followed by Quezon City at 13.8 percent vacancy rate, Alabang at 5.8 percent, Bonifacio Global City (BGC) at 4.8 percent, Bay Area at 4 percent, and Makati CBD at 3.3 percent.
"With business activity experiencing a downturn throughout the quarter, Q3 2020 saw massive losses throughout the office market," KMC Savills said. "As building completions continue to be pushed back, the incoming pipeline is still expected to add more pressure to the office market."
Meanwhile, major submarkets in Metro Manila are now experiencing the impacts of POGO exodus.
"One of the biggest movers during the quarter was the C5 Corridor," KMC Savills said. "(I)t was deeply affected by reduced demand from the Philippine Offshore Gaming Operator (POGO) sector. The submarket experienced heavy losses after 40,200 sqm of space was vacated during the quarter."
The C5 Corridor covers a stretch of E. Rodriguez Jr. Avenue from Quezon City to Pasig City. (PNA)