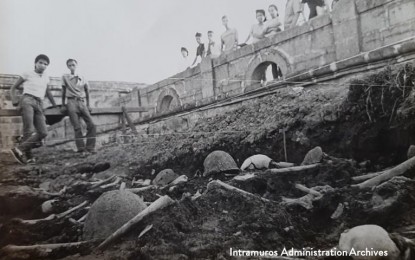 MANILA – It is common among travelers to understand a place by learning its history and exploring its oldest infrastructure which is why the Intramuros is a must to visit destination when in Manila.
Having been built by the Spaniards in 1521 to serve as their military and political base in Asia, the Intramuros is a treasure trove of secrets. And a few of these are best shared on Halloween.
Rancho Arcilla, an archivist of the Intramuros Administration, spilled one on Sunday.
"The Parian Gate is one of the gates to the walled city of Intramuros. It historically faced the Parian market during the Spanish colonial era, and was for a time the busiest entry point to the walled city," he said.
With the bombings and attacks during the World War II, the gate was damaged and was not repaired right away.
Through the years, the area was covered in tons and tons of debris that dwarfed the walls of Intramuros, he said.
In 1979, the Department of Tourism created the Intramuros Administration to restore, administer, and develop the historic walled city.
Arcilla shared that the excavation of the moat and the clearing of the Parian area was one of the first tasks of the administration. They rented backhoes to remove mounds of garbage piled over the years.
"In 1981, while the area of the Parian Gate was being cleared, a team of laborers from the Intramuros Administration uncovered an inconceivable horror--the skeletal remains of soldiers and civilians from World War II," he said.
The workers were scrambling to move far from the area and work had to be stopped.
"Nerves calmed and work resumed only after a priest from the Colegio de San Juan de Letran was called to bless the remains," Arcilla said.
Officer-in-charge of the Intramuros Administration Dr. Esperanza Gatbonton said there was even a rumor about a ring from one of the skeletons.
"The ring was said to be stolen by one of the laborers whose disappearance was said to confirm the theft. When the accused thief suffered a mishap soon after, the laborers surmised that violating the dead could bring dire consequences," she said.
Most of the bones were of Japanese soldiers who were still armed with rifles and bayonets, she added.
Upon learning about the discovery, the Japanese government sent Kazuaki Hontao of the Ministry of Health Welfare to Intramuros who brought the skeletons back home for cremation and repatriation to Japan.
The Intramuros Administration said the skeletons are now at the cemetery for Unknown Soldiers in Tokyo.
The area where the skeletons were found is now part of the ASEAN Gardens in Intramuros, fronting the Parian Gate.
The gates of Intramuros are temporarily closed in compliance with the Inter-agency Task Force for the Management of Emerging Infectious Diseases guidelines.
However, the administration is hosting several virtual tours to accommodate the curious minds of people wanting to learn about history or those who are just needing a good scare. (PNA)