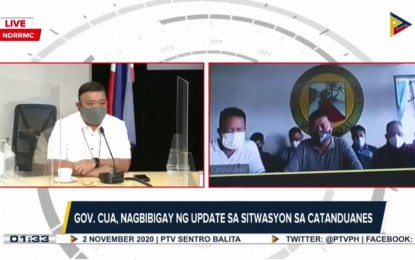 LEGAZPI CITY – Super Typhoon Rolly has left five people dead and caused massive destruction, flattening at least 13,000 houses along the coastlines of Catanduanes province when it made its first landfall in Bato town at 4:50 a.m. on Sunday.
"We really need help from our national government. We are also requesting telcos to expedite their restoration efforts so that we could establish again contact into and outside Catanduanes, particularly the family members and relatives of our constituents," Gov. Joseph Cua told Palace Spokesperson Harry Roque in a virtual briefing aired by the People's Television Network on Monday.
Cua also requested for drinking water, adding that facilities of the water utilities were also destroyed, thereby cutting off the potable water supply in the province.
Roque asked Cua to list down all their urgent needs so that these could be loaded into the C-130 plane that would ferry the requested supplies to Catanduanes on Monday (Nov. 2).
The Philippine Army assigned in the province also requested for additional personnel to augment their distribution efforts of relief goods across the different towns.
Cua said the province also totally lost electric power and communication signals after 80 percent of the electric cooperative's facilities and telecommunication lines were toppled down by "Rolly" as it barreled through Bato, Gigmoto, Baras, San Andres and Virac towns.
"Rolly is stronger and more devastating than (past) super typhoons that hit Catanduanes, such as Rosing in 1995 and Nina in 2016," Cua said.
He said that "Rolly" spawned up to five-meter high storm surges along the coastlines of the island province.
Cua said major roads across Catanduanes remained impassable due to landslides and fallen trees that rendered access to hard-hit towns very difficult.
Damage to infrastructure, on the other hand, was estimated to have reached between PHP700 million up to PHP1 billion, the governor said.
Likewise, he said the devastation to abaca plantations reached PHP400 million, noting that it is the major industry in Catanduanes contributing PHP150 million in monthly revenues. (PNA)