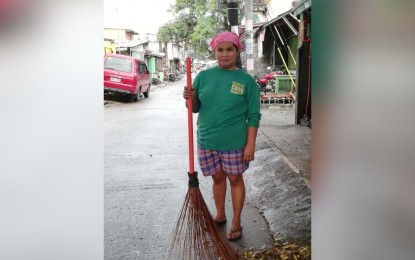 MANILA – Her day starts before sunrise. Armed with a broomstick, dustpan and face mask, Connie Ceroma-Mawa, 42, sweeps three streets in Barangay Holy Spirit in Quezon City even when it is raining.
She completes her task as a volunteer street sweeper by around 8 a.m. when the heat of the sun is starting to hurt the skin.
She does this six days a week, with either Saturday or Sunday as her day off, depending on her availability on weekends.
This is her schedule even before quarantine measures were put in place.
When the government implemented movement restrictions from mid-March until end-April in Luzon, and end-May in Metro Manila, many people lost their jobs.
This, after most businesses suspended operations, except for those involved in basic and frontline services.
Unemployment rate rose to record-high 17.7 percent last April but this improved to an estimated 10 percent last July.
Mawa, a widow for seven years now and has two kids, a fifth grader and a 12th grader, earns PHP6,000 monthly for her volunteer work for the last five years.
Mawa remains grateful she still has a job unlike other people who lost their source of income during the pandemic.
"I still have my job and it's something to be thankful for," she said in Filipino.
She said her monthly stipend as a street sweeper is not enough to provide for the needs of her kids.
Before the pandemic, Mawa augmented her income by doing laundry jobs for a business woman who sells shoes at a bargain shop in Quezon City Memorial Circle, a public park in the city, and in front of the St. Peter Parish: Shrine of Leaders along Commonwealth Avenue in Quezon City. She did the extra job twice a week and earns PHP600 a week for this.
"But their business stopped because of the quarantine so they have to let go of me," she added.
Mawa, who was a dressmaker before she got married, sometimes also takes extra jobs making jackets and bed sheets earning an additional PHP500 to PHP700 per week.
"The pay is not commensurate with the job but I need an extra salary that's why I'm doing it," she said.
Mawa is a beneficiary of the government's social amelioration program (SAP) and received a total of PHP16,000 from the Department of Social Welfare and Development (DSWD).
The SAP aid, along with the food supplies provided by the local government unit (LGU) during the enhanced community quarantine (ECQ), helped a lot to provide for her small family during these trying times.
She hopes to get a better paying job, with at least a minimum daily wage, after the pandemic to adequately provide for her kids.
With a kid who is now in Grade 12, Mawa said she needs to have extra funds to send her daughter to college next school year.
For now, she said the online learning system adopted by the government to allow students to continue their education despite the movement restrictions, requires her to buy data loads regularly.
High school students in Quezon City were provided by the LGU with mobile tablets and data load for distance learning.
Mawa said she is delighted for these provisions because it allows her high schooler to continue her studies even without her buying a tablet.
But she needs to buy data load once the provided load has been used up.
"I hope the pandemic ends soon so that I can apply for a better job, can still send my kids to school, and provide for all our needs," she added. (PNA)