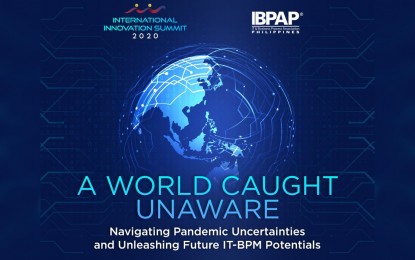 MANILA – Labor force requirement of the information technology and business process outsourcing (IT-BPM) sector in the country will remain stable amid the global health crisis, an industry executive said.
IT and Business Process Association of the Philippines (IBPAP) president and chief executive officer Rey Untal said the industry is unlikely to meet the industry growth forecast of 3.5 percent to 7.5 percent in the next three years due to impacts of the coronavirus disease 2019 (Covid-19) pandemic and contraction in the global demand.
"Despite this, they (industry leaders) acknowledged that although the overall market decline, the labor requirements of the IT-BPM industries or companies here in the Philippines remain stable," Untal said at the opening of the 12th International Innovation Summit held virtually on Wednesday evening.
He said the industry now operates at above 95-percent productive capacity through a blended service delivery model.
This grew from 50 percent in March, 73 percent in May, and gradually went up to 90 percent since community quarantine measures eased in June, Untal said.
"Our ability to render essential services to both domestic and international clients is indeed a welcome sign of the sector's recovery," he said.
The IBPAP executive also cited industry trends that will support the stability of the IT-BPM workforce in the country.
One is the investment pledges in the IT-BPM sector with the Philippine Economic Zone Authority (PEZA), which jumped by 43 percent to PHP14.15 billion from January to September 2020 from PHP9.9-billion investment commitments in the same period last year.
In terms of the office market, Untal cited a Leechiu Property report indicating the ITBPM sector was able to offset the 240,000 square meters of office space vacated between March and September, which was largely a result of the contraction in other industries.
He said the property market received 297,000 sqm. in office space demand as new contracts came in, mainly from the BPO sector.
"Many organizations continue to identify our sector to be a prime driver of real estate," he added.
Meanwhile, Untal said the industry has opened over 30,000 jobs across different sub-sectors despite the community quarantine measures that started in March.
He cited a JobStreet report showing that the IT-BPM sector has been the top hiring industry from March to September this year.
Untal said the industry continues to strengthen its response to the pandemic as it has embarked on several programs, particularly retooling and upskilling the local labor force. (PNA)