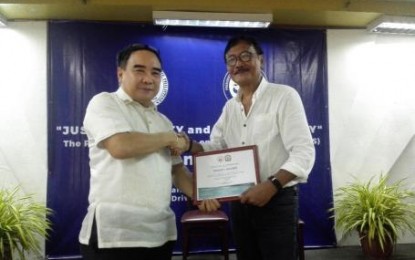 MANILA – Describing it as an act of cowardice, Malacañang strongly condemned the killing of radio announcer Virgilio S. Maganes in Villasis, Pangasinan on Tuesday morning and vowed to hunt down and punish those responsible.
"We are deeply saddened by the untimely death of Virgilio Maganes and extend our sincerest condolences to his family. This administration condemns any type of killing, especially those in the media," Presidential Communications Operations Office (PCOO) Secretary and Presidential Task Force on Media Security (PTFoMS) Co-Chair Martin Andanar said in a news release on Tuesday.
Andanar said he directed PTFoMS Executive Director Undersecretary Joel Sy Egco to swiftly act on the killing of Maganes and "personally handle this matter."
Initial reports gathered by the PTFoMS revealed that Maganes was shot several times at 6:45 a.m. while walking near his home in Barangay San Blas, Villasis, Pangasinan by unidentified motorcycle "riding-in-tandem" gunmen.
Maganes, who was a veteran broadcaster of DWPR Radio Station Dagupan City, just turned 62 last Nov. 7. He was pronounced dead-on-the-spot and investigators recovered six .45-caliber empty shells from the crime scene.
The Palace official also directed the Philippine National Police (PNP) to go after the perpetrators and masterminds in the killing and bring them to justice.
Andanar said he was informed of the incident just a few minutes after it happened, prompting him to call the attention of Police Regional Office Region 1 regional director Brig. Gen. Rodolfo Azurin Jr. and local officials.
Egco, for his part, said the PTFoMS is looking at all angles to determine the motive for the killing.
"PTFoMS is on top of the situation and is closely coordinating with Maganes' family, friends and local police officials to learn more details about the incident," Egco said.
Egco said he will personally oversee the investigation and conduct case conference before visiting the wake of Maganes, his personal friend.
"This cowardly killing in the midst of a pandemic is unforgivable. We will get to the bottom of this and will stop at nothing in identifying and hunting down the people behind this despicable crime. It will be just a matter of time before these murderers will be brought to justice," Egco said.
It should be recalled that Maganes already survived an attempt on his life on Nov. 8, 2016 by feigning death. Through the efforts of PTFoMS, a frustrated murder charge was filed in court against one of the suspects but was later dismissed on the basis of an Affidavit of Desistance executed by Maganes.
Egco said it is the mandate of the PTFoMS to ensure the safety and security of media workers. The task force initially presumes all forms of violence against media workers to be work-related until further investigation proves otherwise. (PR)