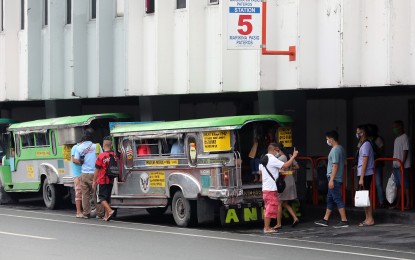 MANILA – There will be more traditional public utility jeepneys (TPUJ) plying the roads of Metro Manila after the Land Transportation Franchising and Regulatory Board (LTFRB) announced that it is opening 16 more routes on Wednesday.
In an advisory on Tuesday, the LTFRB said a total of 816 TPUJs in 16 routes will return to the streets of Metro Manila as prescribed in its Memorandum Circular (MC) 2020-071.
These new routes are as follows:
--T276 Edsa/Shaw Blvd – E. Rodriguez (Brgy. Ugong), Vargas Ave.
--T277 Edsa/Shaw Blvd – E. Rodriguez /Ortigas Ave.
--T278 Edsa/Shaw Blvd – E.R. Ort via Shaw Blvd
--T279 Edsa/Shaw Central -- Pateros
--T3180 Dapitan -- Libertad via Mabini
--T3181 Dapitan -- Pasay Rotonda via L. Guinto
--T3182 Del Pan -- Guadalupe
--T3183 Divisoria -- Pasay Rotonda via L. Guinto
--T3184 Divisoria -- Punta via Sta. Mesa
--T3185 Libertad -- QI via L. Guinto
--T3186 Malanday -- Pier South
--T3187 Project 2 and 3 -- Remedios via E. Rodriguez
--T440 Filinvest City Located at Alabang, Muntinlupa
--T441 Kabihasnan – Sucat
--T442 Nichols -- SM Mall of Asia via Macapagal Ave, and
--T443 Sucat -- Market Market (Fort Bonifacio, Taguig)
Aside from these new routes, a total of 387 routes plied by 33,979 TPUJs are already active in Metro Manila.
Since June 1, the LTFRB has allowed the resumption of service of 865 modern jeepneys in 48 routes, 4,499 public utility buses in 35 routes, 387 point-to-point buses in 34 routes, 6,755 UV Express units in 118 routes, 21,436 taxis, 25,068 transport network vehicle services, 459 provincial buses in 20 routes, and 40 modern UV Express units in two routes.
The LTFRB also reminded passengers, drivers, conductors, and operators to always wear face masks and shields, refrain from talking, eating in public transport, maintain proper ventilation of the vehicle, regular disinfection, bar anyone with Covid-19 symptoms, and to always follow the "one-seat-apart" physical distancing rule. (PNA)