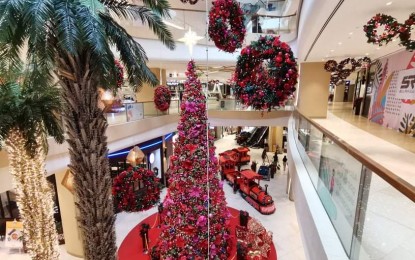 MANILA – With the coronavirus disease 2019 (Covid-19) taking a toll on every country and industry, there seems to be a light at the end of a dark tunnel for the world as possible Covid-19 vaccines are inching a step closer to reality.
With exactly a month before Christmas, Filipinos scrimp and scramble to find and bring the holiday cheer as the pandemic changed their way of celebrating the occasion. With this, some Filipinos look forward to the arrival of a Covid-19 vaccine as the best Christmas gift that would pave the way for the return to normalcy and the recovery from an impaired day-to-day life due to quarantine restrictions.
This was best summed up by 27-year-old Jeca Marie Alejo Curammeng, married and resident of Barangay Muzon, Malabon City.
"Para sa akin, kahit wala na akong regalo na matanggap, basta nawala na yung virus at magkaroon na ng vaccine para bumalik na lahat sa normal (For me, a good enough gift is the disappearance of the virus and arrival of (an effective Covid-19) vaccine so that everything can return to normal. I don't want anything else)," she added when asked what would be the best of gift for her this coming Christmas Day.
For Curammeng, a return to normalcy will enable her and her husband to do simple things, like going to malls and dining in restaurants with her five-year-old daughter Sophia, things that she took for granted before the pandemic.
Meanwhile, for 34-year-old businesswoman Charlene Manuel, a resident of San Carlos, Pangasinan, a return to normalcy and the roll-out of an effective vaccine for Covid-19 are her only wishes for the Yuletide Season.
"I can't think of anything else (except for a Covid-19 vaccine)," she added.
Katherine Nepomuceno, 43, a resident of Barangay Niugan, Malabon, added that the availability of an effective Covid-19 vaccine would be a great relief for the whole world.
"Kasi kapag nagkaroon ng Covid-19 vaccine at nagkaroon na mass immunization, kahit papano, magre-return to normal na yun buhay natin. Magagawa na natin kahit papaano na mamasyal at makikipagkita sa mga kaibigan at mahal natin sa buhay na walang takot na baka madali tayo ni Covid-19 (Once an effective Covid-19 vaccine is made available and mass immunizations taking place, our lives will return to normal and we could do things live travel and meet with friends and loved ones without the fear of being infected with Covid-19)," she added.
Also, 42-year-old Aldwin Yam, a resident of Makati City, only wants an effective Covid-19 vaccine so life can return again to normal.
He added that this will be the best gift for every people in the world this Christmas once this Covid-19 vaccine is authorized for use immediately.
Meanwhile, 41-year-old Jimmy Ong, wants life to return to normal for everyone this Christmas.
He added that this is the best gift ever and this could be facilitated with the development of an effective Covid-19 vaccine.
Earlier this week, British drugmaker AstraZeneca said its Covid-19 vaccine can be 90 percent effective.
Last week, American biotechnology firm Moderna also reported that its experimental Covid-19 vaccine was found almost 95 percent effective. Moderna's clinical trial included more than 30,000 participants.
Another pharmaceutical giant Pfizer also earlier announced that its Covid-19 vaccine was 95 percent effective and had no serious side effects -- the first set of complete results from a late-stage vaccine trial.
Earlier, Philippine Ambassador to Washington D.C. Jose Manuel Romualdez said the country may receive an initial supply of American-made vaccines against Covid-19 by early 2021 once talks are finalized and a contract has been signed.
Manila is in talks with various US pharmaceutical firms developing an effective vaccine against Covid-19, but the first company to approach the country was Pfizer, said Romualdez.
The Department of Health (DOH) also assured that it has funds to buy Covid-19 vaccine once it becomes available.
DOH Undersecretary Maria Rosario Vergeire said they also have assurance from the House of Representatives for additional funds in case it is needed. (PNA)