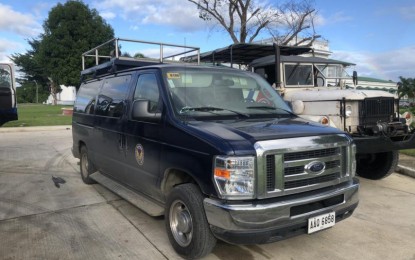 MANILA – The military and police have mobilized more equipment for use in the ongoing disaster response efforts in Region 2 (Cagayan Valley), one of the areas that suffered heavy flooding due to the onslaught of Typhoon Ulysses last week.
In a statement Sunday night, Philippine Air Force (PAF) spokesperson, Lt. Col. Aristides Galang, said a communications van and an air traffic controller are now deployed at the Cagayan Provincial Capitol.
The communications van is capable of air-to-ground, ground-to-ground, sea-to-ground, and long-range communications while the air traffic controller is responsible for coordinating with inbound and outbound PAF aircraft conducting aerial search-and-rescue operations over the affected areas.
"The deployment of the communications van and air traffic controller will further capacitate the SAR teams and other ground troops to expedite rescue operations to those affected by the heavy floods caused by Typhoon Ulysses," he said.
Meanwhile, two UH-IH helicopters from the PAF's Tactical Operations Group 2 are transporting relief goods and other essential items to thousands of families affected by the typhoon, he added.
As of Sunday, 3,500 pounds of cargoes had been transported from Cagayan Provincial Capitol to the inaccessible areas in the towns of Alcala, Amulung, Lal-lo, Solana, and Enrile in Cagayan.
Also, 11 rubber boats and two fiberglass rescue boats arrived in Tuguegarao City Saturday night and used for rescue operations on Sunday morning.
The rubber boats came from the Philippine National Police's National Capital Region Police Office, Police Regional Office 1, Police Regional Office 3, Maritime Group and Baguio City.
Some three PNP ambulances with a complement of doctors and nurses also arrived d in Cagayan Valley and deployed to evacuation centers. Two platoons of search-and-rescue personnel from PNP-Special Action Force were also deployed to Cagayan Valley to assist in the operations.
Some 400 police disaster response personnel were deployed to Cagayan Valley to join the rescue and relief efforts. Two PNP helicopters are also in Cagayan Valley to assist and direct ground operations and possible medical evacuation.
Heavy-lift troop carriers also transported assorted medical supplies, rice, water, and food packs to the affected areas. (PNA)