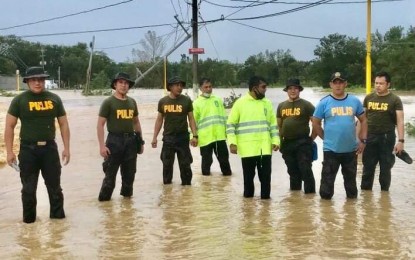 CITY OF SAN FERNANDO, Pampanga — Photographs and videos of heroic flood rescue operations by policemen in Bulacan were posted on social media during the height and in the aftermath of Typhoon Ulysses last week.
One of the most touching scenes that caught the attention of many was the rescue of a mother and her two children—a five-year-old boy and a one-day-old baby—who were trapped inside their house, together with other family members in Barangay Maasim, San Rafael town on Thursday.
Behind the successful rescue operation were the members of the San Rafael Municipal Police Station led by Lt. Col. Ferdinand Germino, who did not think twice about braving the rising floodwaters to save lives.
In a video posted on social media, the team, together with some residents, were shown going inside the house to rescue the baby placed in a plastic bathtub.
"Thank you sa mga nag-rescue sa amin. Sa mga tumulong para ma-contact yung rescuers. Hindi ko na alam mangyayari sa amin kung wala kayo (Thank you, those who rescued us. To those who helped to contact the rescuers. I do not know what would happen to us if you are not here) Thank you so much," said Regine dela Cruz Rance, the mother of the two children, in her social media account.
Rance, an elementary teacher at Microlink Institute of Science and Technology in San Rafael, recalled their ordeal before the rescue operation.
She said the water coming from the swollen river nearby started to enter their house late Wednesday night.
"Patong patong na mga gamit na lang yung tinatapakan namin. Higaan na nakapatong na durabox na may nakapatong na unan at kapag konting taas pa ng tubig wala na (We only stepped on layers of things. Our bed was put atop a durabox with pillows and if the waters go higher, everything would be gone, there was nothing more I could do)," she said.
Still reeling from the shock of the devastating floods, Rance said she never thought about being the subject of a rescue operation.
"Hindi mo akalain na dadating ka sa ganung pangyayari na dati napapanuod mo lang sa TV ung mga nire-rescue. Pero ngayon nangyari sa amin (I never thought that it would come to such a thing which I only watched on television, those that were being rescued. But now it happened to us)," she said.
She said all their belongings were damaged in the flood, including important papers and documents.
"Wala na po pakikinabangan sa lahat ng gamit namin, pati gamit ko sa school wala na lahat. Pero at that moment, wala kaming ibang dasal kundi makaligtas lang talaga kami (All our things, including those in school, were all damaged and can no longer be used. At that moment, we had no other prayer but to survive). But God is so great. He heard our prayers," Rance said.
"Bagyo ka lang, pulis kami (You are just a storm, we are cops)," the rescue team confidently said after the operations.
The rescuers from the San Rafael Municipal Police Station were among the 6,869 police personnel who were deployed for search and rescue operations as part of the Philippine National Police's swift disaster response actions in affected areas. (PNA)