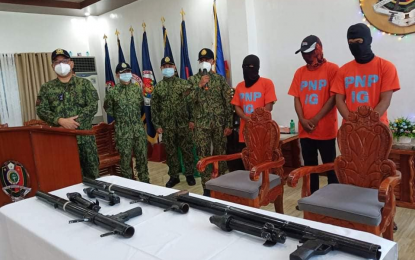 COTABATO CITY – Three members of the Bangsamoro Islamic Freedom Fighters (BIFF) operating in Maguindanao voluntarily surrendered to police authorities on Monday afternoon.
Brig. Gen. Samuel Rodriguez, police regional director of the Police Regional Office-Bangsamoro Autonomous Region in Muslim Mindanao (PRO-BARMM), presented the three BIFF members to the media with their high-powered firearms.
Rodriguez identified them through their aliases as Nor, Pikot, and Giyad who all belonged to the BIFF-Kagi Karialan faction operating in the marshlands of the province.
They turned in three rocket-propelled grenade launchers and rifle grenade projectiles.
"We would like to be with our families without fear of being caught by government forces," said Nor, one of the surrenderers.
He added that their local officials coordinated with police authorities for their surrender.
Rodriguez handed over one sack of rice each for the ex-rebels and cash assistance. The local government units are preparing livelihood packages for the surrenderers.
The rebels used to operate in the marshland of S. K. Pendatun and nearby towns of Sultan sa Barongis, Buluan, Datu Paglas, Paglat, and even in parts of North Cotabato towns surrounding the marshland like Pikit and Kabacan.
Rodriguez has appealed to other BIFF members to abandon their armed struggle and value their lives by choosing to yield and live normal lives. (PNA)