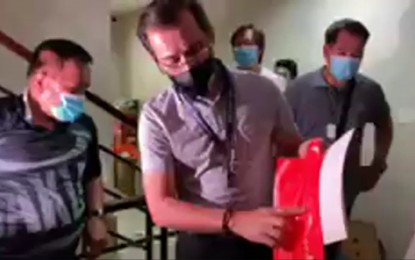 MANILA – Manila Mayor Francisco 'Isko Moreno' Domagoso has called out online shops like Shopee and Lazada over their alleged lack of due diligence for allowing counterfeit products to be sold through their online platforms.
Domagoso on Wednesday led a raid and the closure of two warehouses in Binondo for selling counterfeit beauty and cosmetic products and operating without business permits.
After an investigation, the Manila Bureau of Permits said the products found at the two warehouses are sold through Shopee and Lazada and are delivered in various parts of the country.
"I think Shopee and Lazada should do some due diligence. It is not always the money, about earning, it's always about protecting your consumer," Domagoso said.
He added that even the lessors of the two warehouses identified as Jerry Ong and Johnson Sy, failed to submit a business permit for wholesaler and occupational permits for service personnel, as well as a license to operate issued by the Food and Drugs Administration (FDA).
Domagoso served the immediate closure orders together with Bureau of Permits director Levi Facundo, and Manila Police District Special Mayor's Reaction Team (MPD-SMaRT) chief Maj. Rosalino Ibay.
He clarified that while businesses are welcome to operate in Manila, they should acquire the proper permits needed to operate.
Meanwhile, among those found inside the first warehouse include counterfeit products such as shampoos, lotion, body wash, bath bombs, and other high-end products bearing the brands of Unilever, Procter and Gamble, Victoria's Secret, Calvin Klein, and Bulgari.
On the second warehouse, boxes of Johnson and Johnson's baby lotion, Cetaphil, bath soaps, and other medical cosmetic products, among others, were found.
Domagoso warned the two popular online shops to strengthen their requirements in accepting sellers.
"If we are not going to receive proper explanation, you may be charged with certain liability because you're putting the citizens of Manila, the people of Manila at risk by allowing these products to be sold in your system," he said.
He added that counterfeit beauty and cosmetics products may cause harmful effects to consumers.
Domagoso also ordered Facundo and Ibay to coordinate with the National Bureau of Investigation and the companies involved for further investigation.
Facundo said his office has coordinated with Lazada to countercheck if the sellers using their platform have business permits.
Pursuant to Section 199 of City Ordinance No. 8331, both Ong and Sy may be slapped with a fine of not less than PHP1,000 nor more than PHP5,000 or imprisonment of not less than one month nor more than six months, or both, depending on the discretion of the court.
Under Article 151 of the Revised Penal Code, a penalty of one month and one day to six months of imprisonment, and a fine of not exceeding PHP500 shall be imposed against the two lessors. (PNA)