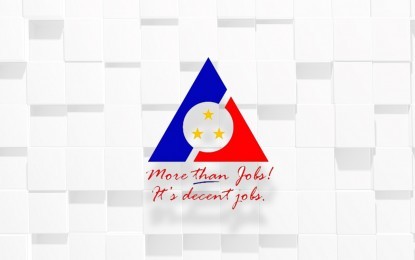 LEGAZPI CITY – The Department of Labor and Employment (DOLE) in Bicol has provided emergency employment to at least 40,000 workers who have been displaced due to the three typhoons that consecutively hit Bicol region.
Johana Vi Gasga, DOLE-Bicol spokesperson, on Wednesday said DOLE, under the Tulong Panghanapbuhay sa Ating Disadvantaged/ Displaced Workers (TUPAD) program, allocated PHP200 million for the six Bicol provinces that have been badly affected by the recent typhoons, specifically Albay, Catanduanes, Camarines Sur, Camarines Norte, Masbate, and Sorsogon.
"The fund is rolled out to primarily assist informal sector workers who lost their livelihood and have no means of earning a daily income," she said.
Gasga added that DOLE Secretary Silvestre H. Bello III has ordered to fast-track the profiling and payment of the 40,000 worker-beneficiaries across the Bicol region.
"Wages should be released in full, amounting to PHP5,000 for each worker to help alleviate their financial burden," Gasga, quoting Bello, said.
DOLE Regional Director Joel Gonzales said the work of the beneficiaries ranges from repairing their homes, cleaning their surroundings, parks, and schools – simple activities that would help them start over.
Gonzales also asked the local government officials to conduct profiling thoroughly to ensure that the deserving and those from less accessible areas can benefit from the program.
Aid for Catanduanes
Gasga said Bello last week visited typhoon-ravaged Catanduanes along with Senator Bong Go and other Cabinet secretaries to personally oversee the first payout in the island-province. At least 600 displaced workers from the towns of San Miguel, Bato, and Virac received their salaries on Nov. 9 and 10.
In an interview, two beneficiaries said that they would use the money to rebuild their homes.
"Ngonian na binagyo, ipunon ko ini na narecibe ko hale sa DOLE TUPAD ta ipatis-tis ko ki good lumber, pampagibong harong. Kaya dakula pasalamat ko digdi sa TUPAD ta nakatabang sa kadaihon. First time ko maka-recibe ayuda hale sa gobyerno (I will save this money and I will use this for my house. I am grateful for DOLE TUPAD, this is the first time I received help from the government)," said 29-year-old Sanny Tapil of Barangay Solong, San Miguel town.
He is one of the affected abaca farmers when Super Typhoon Rolly battered the island-province in October, leaving immense damage on homes, properties, and crops.
Like many residents in the town, abaca farming is his primary source of income. The strong howler affected around 18,000 farmers and damaged nearly 17,000 hectares of crops.
"Nawasak an harong mi. Kaya magibo naman ako harong para sa pamilya ko. Maski anong trabaho, kaya ko iyan (Our house was totally damaged, I can do any job that may be offered)," he said.
With his home and livelihood wiped out, he shared that he does not know how to start all over again.
On the other hand, Nonita Estrada, of Barangay Rawis, Virac town, thanked DOLE for the immediate release of their wages.
"Dahil sa bagyo, sirang-sira ang bahay namin. Kaya nagpapasalamat ako sa DOLE TUPAD, na unang pinansiyal assistance na receive ko sa gobyerno. Malaking tulong po ito sa aming pamilya, may pambili na kami ng yero (Because of the typhoon, my house was totally damaged. I am thankful to DOLE TUPAD for the financial assistance that I received from the government)," she said.
Albay visit
A day after Typhoon Ulysses battered the region, Bello, together with DOLE Undersecretary Renato L. Ebarle flew to Albay, where at least 506 people in this city, Tabaco City, and Bacacay and Guinobatan towns were given their TUPAD wages.
Bello said there would be profiling and payment of wages to provide emergency employment to 10,000 beneficiaries in the province.
He directed the regional office to respond urgently and accept more requests from TUPAD.
Meanwhile, some areas in Albay, particularly the towns heavily affected by lahar flow from Mt. Mayon, have already started the clean-up drives and the provision of errand services.
Rodolfo Ruben, Jr. of Barangay Poblacion, Guinobatan is one of those whose homes are still submerged in water and lahar mud.
He expressed gratitude to DOLE as he was qualified to be a TUPAD worker-beneficiary.
"Kalahati ng bahay naming lubog sa baha at wala pa akong trabaho. Kaya nagpapasalamat po ako sa oportunidad na mapabilang sa TUPAD. Malaking tulong po talaga ang sahod na matatanggap ko dito. Salamat po sa mabilis na ayuda," (Half of my house was submerged in water, and I don't have job. That's why I am thankful for this opportunity to be part of the TUPAD program. The money is a big help, thank you for the fast assistance)," Ruben said.
Aside from the emergency employment, Bello turned over 20 boats to fishermen in Tabaco City.
In the private sector, at least 139 affected workers also received financial assistance amounting to PHP5,000 each from the Coronavirus disease (Covid-19) Adjustment Measure Program (CAMP) under Bayanihan Act 2.
The CAMP provides a one-time cash subsidy of PHP5,000 to formal sector workers while TUPAD beneficiaries were given emergency employment and paid the minimum wage in their respective areas. (PNA)