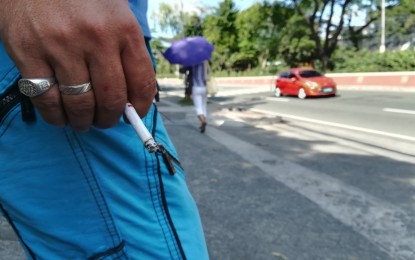 MANILA — Metro Manila rated "satisfactory to very satisfactory" in following anti-smoking policies, results of a study show.
The study, made by the Metropolitan Manila Development Authority (MMDA) and the University of the Philippines on the level of compliance in implementing smoke-free policies in five local government units in the National Capital Region, shows that the cities of Muntinlupa, Caloocan, San Juan, and Mandaluyong - as well as the municipality of Pateros - have passed their respective comprehensive smoke-free and vape-free ordinances in 2017.
After more than a year, the study was conducted to identify how people responded to the ordinances.
The study shows that residents and establishments in the LGUs were rated "satisfactory" to "very satisfactory" in terms of compliance on advertising and promotions, ordinance enforcement, selling and display, and use of tobacco and electronic nicotine delivery systems products (ENDS) products.
The compliance to the presence of pictorial health warnings and reporting officers and the absence of non-compliant tobacco sellers, however, need to be further improved.
The LGUs were assessed in four compliance metrics, such as advertising and promotion; enforcement; selling and distribution; and smoking and ENDS use in public places, including schools, transportation terminals, and PUVs.
"Through the collaborative efforts of Metro Manila LGUs, we will transition from highly compliant to totally smoke-free cities soon. Quitting smoking is one of the best ways to safeguard our health especially during this Covid-19 pandemic," MMDA chairman Danilo Lim said in a news release.
To achieve a high level of success in implementing the laws/ordinances concerning smoking regulation and smoking cessation programs, it was recommended for LGUs to strengthen the existing policies equipped with a standardized monitoring system and execute the laws up to the barangay level.
Dr. Loida Alzona, director of the MMDA Health and Environmental Protection Office, commended the efforts of the 17 Metro Manila LGUs in promoting a healthy environment toward achieving a 100 percent smoke-free cities vision, adding that a similar study will be conducted in other LGUs.
The Smoke-Free Compliance Study was conducted by the MMDA and UPCMCFI from December 2019 to February 2020 to see the effectiveness of various ordinances relevant to the smoke-free campaign of the government.
They presented the results of the study with Metro Manila LGU representatives in a virtual meeting last month. (PR)