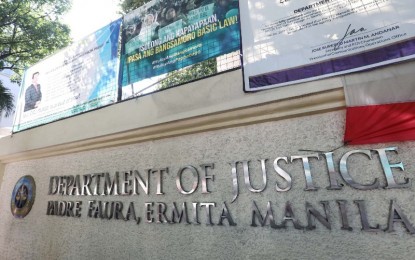 MANILA – Senior Assistant State Prosecutor (SASP) Juan Pedro "JP" Navera, one of the top fiscals of the Department of Justice (DOJ), has succumbed to a lingering illness on Monday. He was 49.
"Yes, it's true. It's really saddening. Aside from being a good prosecutor, SASP Navera is really a good person as attested by his colleagues, friends, and family," Justice Secretary Menardo Guevarra said in a message to reporters.
Navera handled many cases of national significance during his time.
His contemporary, Senior Deputy State Prosecutor Richard Anthony Fadullon, noted how he and Navera fought fiercely in prosecuting the Oakwood mutiny case against former Senator Antonio Trillanes and his co-accused.
"But together, we experienced frustration when they were granted amnesty," Fadullon said.
Fadullon and Navera also notably stood up and walked out together on former Acting Justice Secretary Alberto Agra when the latter wanted to dismiss the cases against then Maguindanao Gov. Zaldy Ampatuan.
"At the risk of losing our jobs, together we (Fadullon and Navera) bravely went up against the Ampatuans in the Maguindanao Massacre case, only to be removed unceremoniously together (from the case) by (Agra's successor), former Secretary (Leila) De Lima," Fadullo recalled.
Some members of the Ampatuan clan were subsequently convicted last December for their part in the worst peace-time attack against journalists in recent history.
"His competence and brilliance are without question. Others who don't know him may dismiss him as arrogant but I guess that's just how he is to people who he doesn't know," Fadullon added.
At the time of his death, Navera was also handling the case of the Coast Guard personnel charged with the killing of Taiwanese fishermen in the country's northernmost territorial waters.
On Facebook, Navera's acquaintances including his law school classmate and friend Adel Tamano also noted his exceptional sense of humor and his liking for the Eraserheads band. (PNA)