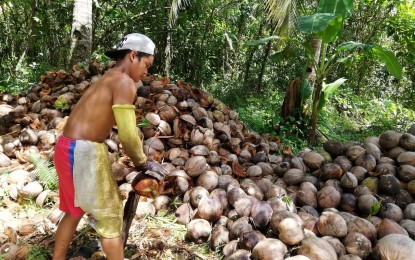 TACLOBAN CITY – The Philippine Coconut Authority (PCA) has asked the estimated 460,000 coconut farmers in Eastern Visayas to register under the National Coconut Farmer's Registry System (NCFRS).
PCA Regional Manager Joel Pilapil said on Wednesday the initiative seeks to update and re-evaluate the previous NCFRS data and to register new coconut farmers.
"We are hopeful that more farmers will register or update their information for them to avail assistance from the government. This will also help ensure effective and efficient planning, delivery and monitoring of PCA programs and projects," Pilapil said in an interview.
Registration has started on Nov. 25 in PCA regional and provincial offices. Farmers are required to present a valid government-issued identification card.
"To reach more farmers, there will also be a mass registration in towns and villages on a scheduled basis to be announced later. Protocols under the new normal will be observed in the pursuance of this activity," Pilapil told the Philippine News Agency (PNA).
The PCA is eyeing to complete the registration process before the year ends.
The registration came more than a month after the Coco Levy Act, the law that will pave the way for the release of the PHP100-billion coco levy fund, was passed on third and final reading.
"I believe more farmers will be interested to participate in the registration because of this Coco Levy Act," Pilapil added.
Under the Coco Levy Act, the PCA will be tasked to handle the controversial fund, the tax collected from coconut farmers from 1972 to 1982 by the administration of former president Ferdinand Marcos. (PNA)