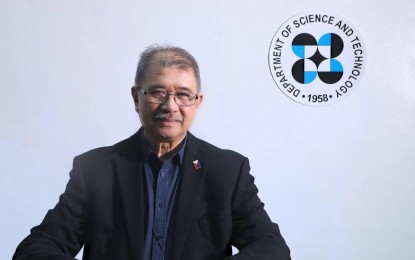 MANILA – The country needs to spend more on research and development (R&D) to be more disaster-resilient, and be at par with other countries in terms of capabilities like developing a Covid-19 vaccine, according to Department of Science and Technology (DOST) Secretary Fortunato de la Peña on Wednesday.
Currently, the Philippines' total R&D expenditures, both from the public and private sectors, is only .15 percent of the GDP, he noted in a virtual presser.
"The standard suggested by UNESCO for developing countries is 1 percent of the GDP," he added.
De la Peña said the world now observes Covid-19 vaccines being developed by other countries, and the Philippines cannot develop one because "wala tayong kakayahan (we do not have the capabilities)" due to the lack of a facility.
This is why, he said, he has been pushing for the establishment of the Virology Science and Technology Institute of the Philippines (VIP), which he envisions to be a premier research institute in virology and diseases in humans, animals, and plants.
"We can make existing vaccines like for immunization, but for a vaccine (against a) new virus, we don't have the facility for that," de la Peña said.
"Our other studies, such as the effectiveness of VCO (virgin coconut oil) in treating Covid-19 patients, need an in vitro trial, and it can only be done in a laboratory. I had to send it to Singapore because we cannot do it here without the facility," de la Peña continued.
Meanwhile, the DOST chief also mentioned the need for additional equipment for the country's weather bureau.
The Philippine Atmospheric, Geophysical and Astronomical Services Administration (PAGASA), he said, has improved its tropical cyclone track forecasting.
"Tropical cyclone track forecasting has improved, from the average forecast track error of 141.41 km. in 2014, to 56 km. as of November 2020," he said.
De la Peña added that for Super Typhoon Rolly, the error was 41.4 km., while the error for Typhoon Ulysses was 38 km.
He said he is hoping that more equipment can be installed.
Based on his presentation, there are 17 existing Doppler radar networks, and there is an ongoing installation for three Doppler radars. Moreover, there are 26 high-frequency doppler radars installed, and there will be an additional 15 in 2022.
We need more, he reiterated.
Doppler radars are for tropical cyclone and rain monitoring, while high-frequency doppler radars are used for sea waves monitoring. (PNA)