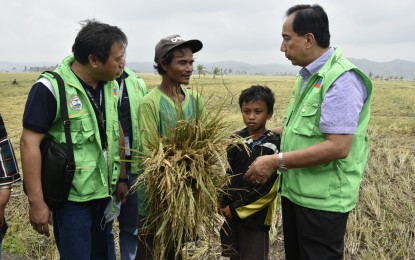 MANILA – The Philippine Crop Insurance Council (PCIC) will roll out its indemnity fund for about 121,000 insured farmers and fisherfolk severely affected by calamities this year, the Department of Agriculture (DA) said Thursday.
"These are the farmers who reported damage in their insured rice, corn, high-value crops, livestock holdings, fisheries, and other assets supporting their operations that were affected (by the calamities)," the DA said in a message to reporters.
It said the PCIC, an attached agency of the DA, has initially released PHP347 million from the PHP1-billion indemnity fund to enable the affected farmers to rebuild their lives and livelihood.
The PCIC-insured farmers have estimated at PHP1.5 billion the damage to agricultural areas in seven regions.
The DA assured that the funds would be released within 10 days after the completion of the required documents.
Meanwhile, Agriculture Secretary William Dar has ordered the PCIC to fast-track the verification process so aid could be released to the affected farmers immediately.
The PCIC covers the insurance of registered farmers and fisherfolk affected by the Taal Volcano eruption in January and typhoons Pepito, Quinta, Rolly, and Ulysses that flooded farmlands and affected the fisheries sector.
The council is mandated to provide insurance protection to farmers against losses arising from natural calamities, plant diseases, and pest infestations of their palay, corn, and other crops.
Last week, the National Disaster Risk Reduction and Management Council said agricultural damage in the Ilocos, Cagayan Valley, Central Luzon, Calabarzon, Bicol, and Cordillera regions, as well as the National Capital Region has reached PHP2.89 billion. (PNA)