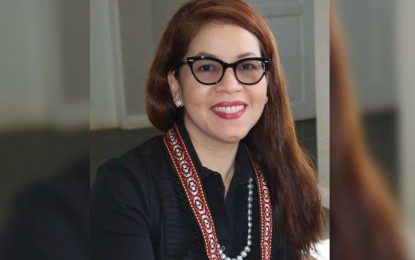 MANILA – President Rodrigo Duterte has picked Davao del Norte provincial election supervisor, lawyer Aimee Ferolino-Ampoloquio as commissioner of the Commission on Elections (Comelec).
Comelec Chairman Sheriff Abas said Ferolino-Ampoloquio would replace Al Parreño, who retired in February.
"On behalf of the Commission on Elections, I am proud to announce that our very own Atty. Aimee P. Ferolino-Ampoloquio has been nominated by the Honorable President Rodrigo Roa Duterte as Commissioner for a term expiring on 02 February 2027, vice Al A. Parreño," he said in a statement.
Abas said he is sure that with her vast experience, Ferolino-Ampoloquio will be an asset to the Commission.
"Commissioner Ferolino-Ampoloquio's vast experience in the frontline of election service will greatly contribute to the Commission's thrust to ensure that our electoral processes are responsive to the varying needs of our electorate - making sure that our elections are more inclusive," he said.
Ferolino-Ampoloquio's appointment completes the seven-member Comelec en banc.
"With the En Banc now complete, Comelec is now better equipped in fulfilling its mandate to further strengthen and advance our democracy," Abas added.
He said Ferolino-Ampoloqiuo has risen up the ranks as she started as an Emergency Laborer in 1994 then became an Election Assistant for 12 years.
She was then appointed as an Election Officer for 10 years, and more recently as Provincial Election Supervisor for two years.
"Commissioner Aimee is an inspiration to all public servants. Her ascent to Comelec leadership is a testament of her great work and her dedication to deliver quality and unparalled service," Abas said.
Last September, Duterte has nominated lawyer Michael Braganza Peloton, an expert in Law and Information Technology, to the post of former Commissioner Luie Guia.
In a separate statement, Malacañang confirmed her appointment and expressed hope she would ensure peaceful national and local elections in 2022.
"With her vast experience in election matters, Ms. Ampoloquio would certainly contribute in ensuring our elections would be honest, orderly, peaceful, and credible. We wish Ms. Ampoloquio good luck in her future endeavors," Presidential Spokesperson Harry Roque said. (With reports from Azer Parrocha/PNA)