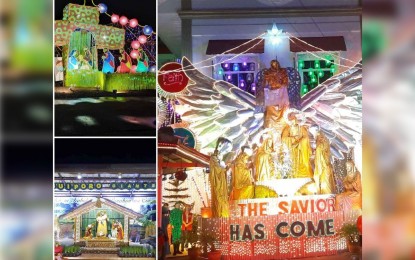 MANILA – Their Belen (nativity scene) may be destroyed by the recent typhoons "Rolly" and "Ulysses" but for Tarlaqueños, the recent calamity cannot dampen their desire to rebuild their entries to be part of the annual 'Belenismo' festivity.
Despite the calamities, the coronavirus disease (Covid-19) pandemic, and its effect on the livelihood of many Filipinos, Tarlaqueños remain resilient as they believe the event sparks a light of hope in celebration of the birth of Jesus Christ.
"Our inspirations are the challenges that we encountered this year most especially the Covid-19 pandemic. We created coronavirus shaped designs, used different colors that represent the intensity of difficulties we've had, and at the end, we will see a rainbow on top of our Belen to show that after everything, there is hope," said one of the participants Riza Lanoria, in a mix of English and Filipino, in an interview Wednesday.
The town of Moncada built a huge colorful Belen right in front of their town hall, depicting love, peace, and hope.
Joyful Christmas songs are played in the background that lightens the mood of everyone.
Moncada Mayor Estelita Aquino said it took them a lot of thinking whether they will put up their Belen for this year and join the event since they have already canceled all their town activities for 2020 and focus their efforts and budget on their fight against the pandemic.
However, Aquino said they thought this would send a message to their constituents that there is no hope at all if they do not put up their Belen.
"So despite the pandemic, we decided, just to show the people that despite what is happening there is hope and there is a chance that this problem that we are encountering at present will have an end in the coming months, so that is the message that we want to give to the people," she said.
In almost all of the Belens, a common sight is the statues of the front-liners in the fight against Covid-19.
This is to give honor to them and thank them, most especially those who even lost their lives just to be able to help and save other people's lives.
Another participant, the Tarelco or the Tarlac Electric Cooperative, had a huge problem the day of the final judging itself on Saturday.
Right after the typhoon, they have already rebuilt their damaged Belen.
But early morning on Saturday, they were surprised to find their Belen, specifically the statues of the front-liners, destroyed.
Upon checking CCTV footages, Michael Idmilao of Tarelco said they saw someone took off the heads of the statues and ran away with their protective equipment.
"Pagkakita ko medyo bumagsak yung loob ko pero inisip naming na kailangang ipagpatuloy, agad na ginawan natin ng paraan. Nagtulong tulong kami mga empleyado, utilities para maibalik kung ano yung itsura nung una at napaganda pa rin naman namin (when I saw it I was disheartened but we thought that we should continue and not just give up. Everyone lent a hand, the employees, the utility persons, to be able to bring it back to how it was before)," he said.
Meanwhile, the Almaville participants were also downed by the typhoons and they were only given a week to restore everything.
Because of the support from the whole community, they rebuilt the Belen made of 10,000 bottle caps, egg shells, and coconut shells that are easily available in their town.
"We heal as one kaya nga nagkaroon kami ng malaking heart (we created a very big heart) because we all know that love can save us," said Arvin Simon, the designer of the Belen.
The faith of the Tarlaquenos is also unwavering.
They said they believe there is a reason for all these things and that despite all the challenges that came their way, Filipinos should still celebrate Christmas.
"Life is a never-ending cycle. Our inspiration for our Belen is the pandemic. Lahat tayo ay nakaraan ng (we all went through) up and downs but because the love of God is infinite and never-ending, we will get through this," said Crisco Manuel of the St. Francis Parish youth ministry. (PNA)