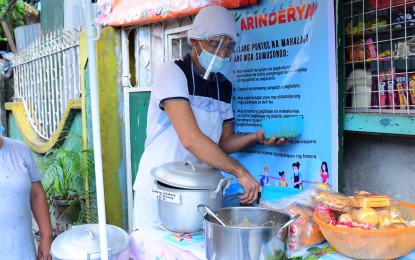 MANILA – Eighteen foundations and non-governmental organizations (NGOs) have been helping micro enterprises, particularly owners of food stalls or 'karinderya', to restart their businesses as well as urban poor communities, through Project Karinderya.
The project distributes meals to poor families through food stall owners. This has also helped micro enterprises to continue their businesses amid the pandemic.
Every participating karinderya has to serve meals to 20 families in their community for 30 days.
These families receive vouchers that they will use to claim meals from participating karinderya.
Kabuhayan sa Ganap na Kasarinlan Credit and Savings Cooperative (K-Coop) and its affiliate Kasagana-ka Development Center, Inc. (KDCI) are the organizations that select the participating micro enterprises and beneficiary families.
In a virtual briefing Friday, K-Coop general manager Maria Ana de Rosas-Ignacio said this project aims to assist karinderya owners to restart their businesses after lockdown measures implemented at the onset of the coronavirus disease 2019 (Covid-19) forced stores to close.
"Karinderya in urban poor communities are ideal partners in making safe and well-prepared meals easily accessible to families suffering from hunger brought about by the pandemic," Ignacio said.
In a survey done by the Covid-19 Civil Society Sector Organizations and Private Sector Coalition or NGO Collab from April to May 2020, 75 percent of 3,296 respondents in urban poor communities said they lost their source of income amid the pandemic, while 21 percent said their income was reduced.
Eighty-seven percent also said they are no longer able to meet their needs amid the crisis.
Ignacio added the Project Karinderya also aims to assist vulnerable community members to address their hunger needs.
In another survey of NGO Collab, 62 percent of the respondents from 141 barangays in seven cities in Metro Manila said the food packs they received during the strict community quarantine period were insufficient for their family needs
The results of the survey conducted by NGO Collab made them and their fellow members of Bayanihan Musikahan launch the Project Karinderya.
The karinderya owners also receive assistance from the Jollibee Group Foundation (JGF).
"JGF ensures food safety practices are adopted by karinderya," JGF executive director Gisela Tiongson said during the briefing.
The Foundation also trains food stall owners on systems of food preparation, food safety, and customer service, Tiongson added.
As of this month, Project Karinderya has partnered with 50 food stall owners serving meals to 1,000 families.
It will be expanded to 240 more karinderya next month to provide 30-day meal subsidies to 4,800 families. (PNA)