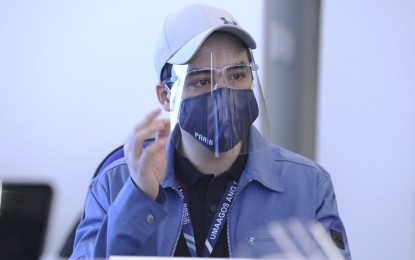 MANILA – Pasig Mayor Vico Sotto on Wednesday clarified that the city's traffic enforcers will not be requiring individuals to present PasigPass upon entering the city.
Sotto said the PasigPass, a contact tracing solution specifically made for the city which runs via quick response (QR) code system, will only be required in establishments and operating offices within the city.
"A friendly reminder that this will only be required in establishments that are listed in the Pasig Pass Ordinance and not to enter the city, as in the false rumors that some people are spreading," Sotto said in a Viber message.
Sotto earlier urged the residents and business establishments to get their own "PasigPass" QR code to protect people's private information while ensuring efficient and contactless contact tracing efforts.
Under the PasigPass ordinance, the city government will only require the scanning of QR upon entry to all business establishments in the city as some commercial centers have already imposed a "no PasigPass, no entry" policy.
"It is also very difficult to get a penalty under this ordinance. For a private individual, not having a QR code would simply mean that you won't be able to enter establishments that require it," Sotto said.
PasigPass is only required when entering city government institutions and offices, malls, groceries, supermarkets, pharmacies, financial institutions, medical facilities, religious institutions, commercial establishments, educational institutions, factories, restaurants, motels, inns, or hotels, and public transportation.
The registration to PasigPass is open for all residents and those who are working and frequently visiting Pasig, aged 18 years old and above.
Sotto reiterated that PasigPass is more efficient, hassle-free, and safer than the manual practice of filling out the contact tracing forms.
The city government assured that the PasigPass will be compliant with the country's Data Privacy Act in terms of storing various medical records of each individual.
As of Dec. 1, the city government already recorded 699,938 individuals and 1,754 business establishments registered in the PasigPass contact tracing solution. (PNA)