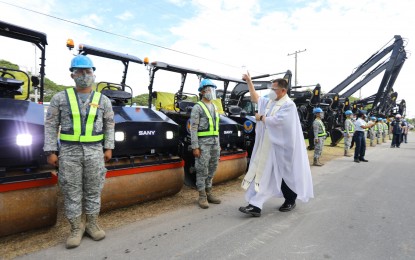 MANILA – The Philippine Air Force (PAF) held the blessing of 57 units of aviation engineering equipment which are expected to close the capability gaps of the 355th Aviation Engineer Wing (AEW) during short ceremonies at Basa Air Base, Floridablanca, Pampanga on Wednesday.
In a statement Thursday, Lt. Col. Aristides Galang, said Air Force commander, Lt. Gen. Allen T. Paredes, graced the blessing as guest-of-honor.
He said the aviation engineering equipment consists of nine trucks, four hydrostatic bulldozers, one compact backhoe loader, six equipment haulers, eight self-loading mixers, 12 excavators, and 17 road rollers.
Galang said these will be utilized for all pavement projects of the 355th AEW and are expected to solve identified gaps in the unit's construction capability. This covers surveying, design, area preparation, construction proper, rehabilitation and demolition of structures, and mission essential support equipment.
Also, these aviation engineering equipment are expected to perform general engineering, including during humanitarian assistance and disaster response and providing combat aviation support in times of conflict.
"All of these equipment including the previous acquisition projects of the PAFAEE (Philippine Air Force Aviation Engineering Equipment) will be distributed and permanently deployed to the different PAF major installations once the reorganization is conceived," Galang said.
He added that the reorganization highlights the placing of eight PAF civil engineer squadrons all over the country under the administrative control of the 355th AEW. (PNA)