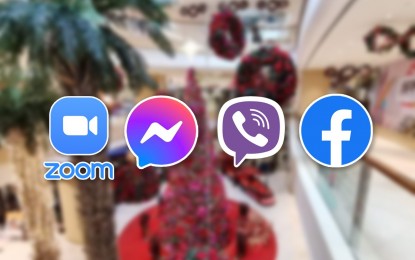 MANILA – With only three weeks to go before Christmas, planning getaways and gatherings with loved ones has been a part of the Filipinos' way of commemorating the season. However, with the current situation due to the coronavirus disease 2019 (Covid-19), people would have to defer seeing their loved ones from other places physically as authorities discouraged the holding of reunions for the holidays.
For some, being prohibited to hold Christmas and New Year's Day reunions due to the pandemic means lesser holiday cheer as Filipinos are known to bond more with their closest of kin and friends during the season.
Trisha Alcantara, a 30-year-old marketing executive from Sampaloc, Manila, said the ongoing Covid-19 pandemic has certainly affected the way Filipinos traditionally interact during the holidays.
"Human connection (during the Yuletide Season) is important to all of us, which is why not being able to physically spend time with family and friends can be a shock to our value system this year," she added in an interview with the Philippine News Agency on Thursday.
While technological advances in communications can help fill in the gap, Trisha admitted that seeing loved ones in the flesh is irreplaceable.
"It's so sad that instead of spending time together during the Yuletide season, mag-oonline calls na lang kayo (you would just talk to each other via online calls) or online chat. Nakakalungkot naman po diba? Hindi naman ito yung nakasanayan nating tradisyon (It's sad right? This is not the tradition we have been used to) but we need to comply para sa ikabubuti ng bawat isa kahit mahirap gawin. Kahit miss na miss mo na yung family mo (for everyone's own good, even if it is difficult. Even if you really miss your family a lot)," added Alcantara, who has family members in Mangatarem, Pangasinan.
She is also seriously thinking of whether she will risk it to go home during the Yuletide Season or just settle for video chats or calls with her loved ones.
"Actually po, iniisip ko nga kung uuwi ako or talagang via chat or video calls ko na lang muna sila makikita (I'm thinking if I would go home or would just settle with chat or video calls just to see them), Staying connected to loved ones right now is more important now so let's make sure na kahit di kayo magkakasama, happy pa rin yung celebration nyo (that even if you are not together, you would still have a happy celebration) with simple online conversation or calls," she added.
Alcantara added that she is planning to suggest to her family that a "virtual reunion" be held so that at least they will be together even if not physically present.
To do this, Alcantara suggested that Facebook or online "invites" be created to ensure everyone is on time for the virtual reunion and has food and drinks ready for the event.
"Get one person to organize music for everyone to enjoy, create a fun, vibey atmosphere kahit online lang kayo nag-uusap (even if you are just talking with each other online). Though I missed chilling with them in person, at least safe naman po ang bawat isa (at least everyone is safe)," she added.
Earlier, Department of Trade and Industry (DTI) Secretary Ramon Lopez said the Christmas Holidays will be different amid the global health crisis.
"It would be a subdued Christmas; less of the big reunions, more of intimate reunions," Lopez said. He said mass gatherings will still be prohibited due to risk of spreading Covid-19. There will be more virtual reunions than physical get-together during Christmas season, he added.
Meanwhile, for Third Anne Malonzo, 30, a reporter residing in Taytay, Rizal, connecting with loved ones and friends online is not a bad idea considering that the Covid-19 pandemic is still ongoing.
"I don't see any problem with this. Whether we see each other in person or not. Families will remain as families and it's still better to be safe than sorry. Besides, there are many other occasions that we can spend time together after this pandemic in which we no longer have to worry about being infected by the virus," she added.
Malonzo also said she will take advantage of the digital technology to send her regards to her loved ones as a means of reaching out during the Christmas Season.
Meanwhile, 32-year-old banker Francesca Nalus, a resident of Quezon City, said she is a little sad as she will not be able to visit or have reunions with family and friends during the holidays.
"A little sad because even though it is nice to see people through video calls, it still feels different celebrating the holiday season together physically," she added. However, Nalus said she understands the reason for this as this move by the government will help in preventing more Covid-19 infections.
And instead of face-to-face reunions, she said Zoom and or other messaging apps that have video call options Facebook messenger, Whatsapp, Viber can be utilized for "virtual reunions".
Meanwhile, Michelle Elvin Panganiban, 34, an accountant, from Meycauyan, Bulacan, said not having a chance to reunite with her loved ones this Yuletide Season is a bit sad.
"A little sad because I can't hug them. It's so hard to express how much I love them," she added.
But Michelle said she understands the reason for this as this is needed for the safety and well-being of everyone.
"We must endure it now to stop the spread of the virus so we could have a worry-free gathering in the future," she added.
But for Nadine Agleron, 35 and a housewife in General Trias, Cavite, said having no physical contact with loved ones during the Yuletide Holidays is a sensible one as safety, health, and wellness should be the priority of everyone.
Also, she added that for those wishing to interact online or virtually, there is an app called Houseparty which is similar to Zoom.
"It's like Zoom, with games, videoke, etc. You can also prepare games that can be played online," Nadine said. (PNA)