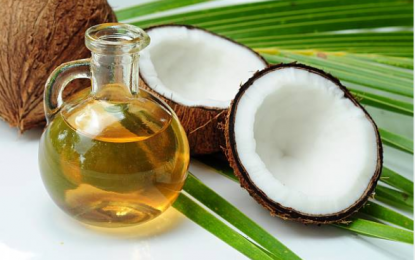 MANILA – More studies are needed to see the effectiveness of virgin coconut oil (VCO) as an adjunct therapy for coronavirus disease (Covid-19) patients, the Department of Science and Technology (DOST) said on Thursday.
"We note that further studies are needed to determine the effectiveness of VCO as an adjunct therapy for Covid-19 patients and with other co-morbidities," DOST Undersecretary Rowena Cristina Guevara said in a virtual presser.
Guevarra made this statement despite the result of the DOST-led community-based study "Effects of Virgin Coconut Oil among Suspect and Probable Cases of Covid-19" which showed that VCO could prevent the progression or severity of the disease.
The study started earlier this year at the Santa Rosa Community Hospital Isolation Unit and Santa Rosa Community Isolation Unit in Laguna.
Out of 57 participants of the study, 29 were provided with meals mixed with VCO for 28 days while the remaining 28 in the "controlled group" did not receive VCO.
In the same virtual presser, DOST Secretary Fortunato de la Peña said those who participated in the study were 20 years old or older, with controlled hypertension, and with normal liver enzyme tests.
He said the study did not include those with a history of heart ailment, with a history of high cholesterol levels, pregnant, and those who are taking statins.
Signs and symptoms of Covid-19 such as cough, colds, body aches, headache, loss of taste, and fever were checked daily, he said.
"Results of the VCO study showed that five of the 29 patients in the VCO group manifested diminishing signs and symptoms as early as the second day (of the 28-day intervention), while only one from the controlled group showed similar improvement," de la Peña said.
He added that the VCO group showed no Covid-19-related symptoms on Day 18, while symptoms persisted in some patients in the controlled group until Day 23.
De la Peña said the VCO group has recovered from infection or inflammation approximately 14 days after being subjected to the intervention.
He also said symptoms in the VCO group significantly declined on Day 2, and no symptoms were observed on Day 18.
"Compare this to the controlled group that showed diminishing symptoms on Day 3 and no symptoms only at Day 23," he added.
In an interview with the Philippine News Agency, study leader Imelda Agdeppa said each participant took a reverse transcription-polymerase chain reaction (RT-PCR) test on the second day from the time the patient was admitted to the isolation facility.
She said 17 participants in the VCO group and 16 in the controlled group have tested positive for Covid-19.
While a total of 33 in the study were confirmed cases of Covid-19, Agdeppa clarified that those participants were considered "suspect and probable case" upon screening and admission.
"All those who tested positive (tested) negative after the 28-day intervention," she said.
Agdeppa said VCO is not a cure, but just an adjunct therapy that can prevent Covid-19 from becoming severe. (PNA)