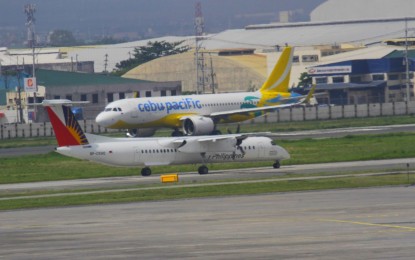 MANILA – Budget carrier Cebu Pacific (CEB) president and chief executive officer Lance Gokongwei on Monday said he believes a Covid-19 immunity passport is essential, especially as the country opens up international travel.
In a briefing with Presidential Spokesperson Harry Roque, Gokongwei said there are many vaccines, and thus there has to be a "global (Covid) passport" showing a person has been vaccinated by a credible vaccination source that every country would respect and recognize.
"If the tourism and travel industry recover, this is an absolute necessity," he said. "Unless we resolve the confidence issue and the safety issue, which can only happen with herd immunity and vaccines, then there is nothing to be spoken about."
Gokongwei said the priority needs to be getting the vaccines in the hands of as many populations as possible.
"Connect this to a Covid passport so that countries would trust when we say that a passenger has already achieved the levels of antibodies so he would not be infectious to anyone," he said.
CEB and the entire aviation sector, he added, has been severely affected by the pandemic. Even without passengers in the previous months, CEB operated cargo flights and repatriation flights.
"We do recognize that tourism is a vital part of the economy," he said on the opening up of domestic travel.
Gokongwei, also president and chief executive officer of conglomerate JG Summit Holdings Inc., said the carrier is working with local government units (LGUs) as it respects each LGU's own guidelines or travel requirements.
The CEB recently partnered with the local government of General Santos in providing the antigen test for passengers.
CEB has been providing its Gensan-bound passengers a free antigen test since Dec. 3, and until Dec. 14. (PNA)