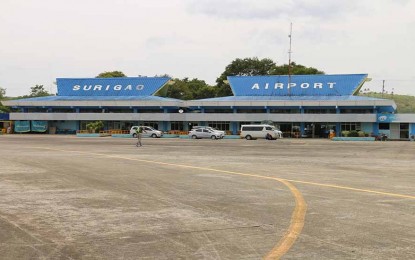 BUTUAN CITY – The management of the Surigao Airport in Surigao City said the Philippine Airlines (PAL) has applied for two direct flights from Manila and Cebu.
Surigao Airport Manager Junelito Abrazado told the Philippine News Agency on Monday (Dec. 7) that the PAL management, in a letter dated Dec. 4 said the airline is applying for a Manila-Surigao-Manila route every Friday and Cebu-Surigao-Cebu every Sunday.
"I already informed the Civil Aviation Authority of the Philippines (CAAP) that the routes and schedules PAL is applying can be approved as it conforms with the provisions of Executive Order No. 20-054 (EO 20-054) issued by Gov. Francisco T. Matugas," Abrazado said.
EO 20-054 mandated the opening of the Surigao Airport in Surigao City and the Sayak Airport in Siargao Island starting Dec. 1.
The order also stated that only one round-trip commercial flight per airline per week per route shall be allowed at the two airports in Surigao del Norte.
Abrazado said PAL's proposal conforms with the provisions stipulated in EO 20-054, adding that it is the CAAP that will make final approval of the application.
Though there are no specific dates for the approval, he is optimistic that the PAL proposal will be approved this month. He added that the other airlines, including Cebu Pacific, have yet to apply for their proposed routes and schedules to Surigao Airport.
"We welcome the application of PAL. The business sector and residents in Surigao City and the nearby towns have been waiting for the resumption of the flights from Manila and Cebu," Abrazado said.
He added that the Chamber of Commerce in Surigao City will also send letters to airline companies for the immediate resumption of their flights to the city.
Abrazado also reported that the 100 percent completion of the rehabilitation work of the runway of Surigao Airport that was severely damaged during the 6.7 magnitude earthquake that struck Surigao City in February of 2017.
"Two weeks ago, a technical team from CAAP had made an inspection to the runway and they recommended some corrections to the contractor," Abrazado said.
He emphasized that the corrections are not major factors that would affect the resumptions of flights at the airport.
"The engineers and support services of the contractor are already here and they are just waiting for the good weather to start the corrections. For the past days, the weather here in Surigao City is not favorable," Abrazado said.
He added that the management at Surigao Airport is expecting an influx of passengers this yuletide season.
"We are receiving a lot of calls and inquiries on the resumption of flights here. With the application of PAL and its approval, we are expecting a high number of passengers inbound to Surigao City this December," Abrazado said. (PNA)