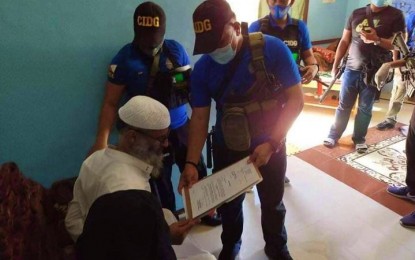 COTABATO CITY – Police and military troops on Wednesday arrested a Saudi national believed to be a member of the Islamic State of Iraq and Syria (ISIS) linked to Bangsamoro Islamic Freedom Fighters (BIFF).
Brig. Gen. Samuel Rodriguez, regional police director of the Bangsamoro Autonomous Region in Muslim Mindanao (BARMM), identified the Saudi national as Abdel Solaiman Alsuhibani, alias "Khalid", who was nabbed at his house in Sitio Bubong Barangay Balabaran here at around 1 p.m.
"He was arrested based on a search warrant issued by a court in Isulan, Sultan Kudarat," Rodriguez said in a radio interview.
Elements of the Criminal Investigation and Detection Group (CIDG), backed by Philippine Marines, arrested Alsuhibani based on a search warrant issued by Judge Allan Edwin Boncavil of Regional Trial Court 12 Branch 19.
Initial investigation showed that the suspect belongs to ISIS operating in East Asia and has personal links with the BIFF under Abu Toraife Group.
"He was placed under surveillance for more than a month," Rodriguez said.
Police also invited Alsuhibani's Filipina wife, Norhaya, after the police seized an improvised bomb component, a laptop, flash drives, a passport, and passbook at their house.
Rodriguez said the suspect claimed he was a money-lending businessman who arrived in Manila a few years ago, met a Muslim woman, and married her. He then moved and lived in Cotabato City.
Residents near Alsuhibani's house told reporters he has been living in the village for the past two years.
Rodriguez said the suspect is still being investigated as of this posting. (PNA)