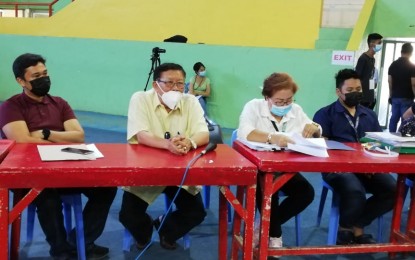 SAN JOSE DE BUENAVISTA, Antique – Antique Governor Rhodora J. Cadiao has ordered the Renal Specialty Incorporated (RSI) to continue its services to patients needing dialysis.
She ordered the RSI to resume immediately on Friday afternoon after they found out that their contract with the provincial government is still binding.
"We discovered that the contract of the RSI is still in effect until December 2021," Cadiao said in an interview.
She said that Antique Provincial Board Member Errol Santillan made good research of documents on the RSI and discovered Resolution Number 288-2016 dated December 15, 2016, which gave her authority to execute a Memorandum of Agreement (MOA) with the RSI for another five years extension of their services.
Cadiao attended the special session of the Provincial Board at the Binirayan Gymnasium where the resolution was presented.
The RSI, the hemodialysis service provider of the provincial government for patients at the Angel Salazar Memorial General Hospital (ASMGH), had notified last December 3 that it would discontinue its services because their contract already ended on December 9, 2020.
It also reminded the provincial government of its PHP29 million bill on the dialysis patients as it subsidized the procedure.
Meanwhile, Vice Governor Edgar Denosta said the provincial board has passed a resolution that authorizes the governor to enter in a provisional MOA with the RSI until such time that a new service provider could be identified by the Private-Public Partnership Selection Committee.
"With the discovery of the contract with RSI still binding, the SP will move to nullify our Resolution 760-2020 because it is no longer necessary," he said.
He said that it was timely that Santillan was able to discover that the contract of the RSI is still binding, considering that there are already dialysis patients in the province suffering without that free hemodialysis service.
He added that hopefully, the province could consider establishing its own hemodialysis center to provide needy patients with the life-extending service. (PNA)