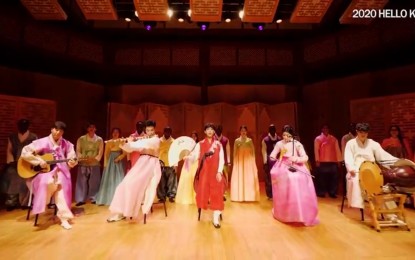 MANILA – Providing Filipino front-liners a treat was not enough for the Korean Cultural Center in the Philippines (KCC), as it staged a virtual concert to recognize their invaluable contribution to society amid the pandemic.
The concert held on Saturday was still part of KCC"s "K-Healing: Overcome Together" campaign that aims to appreciate the front-liners and share their stories. Over 150 nominations were received, from which KCC has chosen 15 individuals and 15 groups from across the country to receive "K-healing" packages such as food, beauty products, and K-pop and K-drama merchandise.
"Through your stories, I myself learned a lesson that these difficulties can be overcome together with love and a sense of solidarity with family, neighbors and community," said KCC Director Im Young-A during the concert.
She said KCC was supposed to give "healing" through this campaign.
"But rather, we found comfort in your stories," she noted, adding that she hopes the special concert would give the front-liners the strength and courage to overcome the difficulties.
The event, Im said, was staged to give the front-liners the chance to experience Korean culture as they try their best to keep the society in order.
Among those who received a "K-healing" package were a teacher, nurses, a guard, fire brigade volunteers. In a video presented during the concert, these individuals shared their hopes to overcome the challenges in these trying times, while also emphasizing that unity has a big role in battling the pandemic.
They also shared how Korean culture has become part of their lives, and keeps them entertained. One nurse in the video shared, "Korean music and Korean dramas became a source of cheerfulness in this challenging time."
Film and TV director Joey Reyes, also in the video, said he had watched about 20 K-dramas in the 10 months of the quarantine restrictions.
"I've not only learned to be entertained by K-dramas. I've learned to study it, to appreciate the structure, and make my hat off at the manner by which Korea gives great passion, great importance to its culture through depiction in these shows," he said.
Reyes also mentioned he is thankful to K-dramas for keeping his sanity during the pandemic.
"I am taking serious study on Korean popular culture because it is a model of Asian culture, which has literally invaded the world," he remarked.
Meanwhile, the performers in the virtual concert were Korean crossover vocal group and winner of the South Korean cable TV network JTBC's Phantom Singer 2, Forestella, and Lim Kim, the singing sensation who made her debut in 2011 after appearing on Mnet Superstar KR. Amazing Arirang was also showcased.
The virtual concert was seen via KCC's YouTube channel. (PNA)