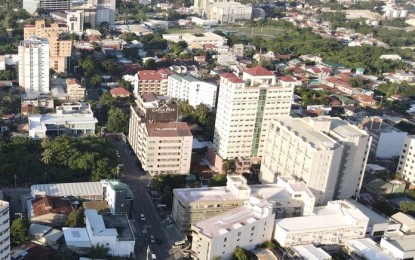 CEBU CITY – A global property consultancy firm said competitiveness and availability of business parks and manpower quality remain strong in Metro Cebu despite turbulent periods caused by the pandemic.
Joey Bondoc, senior research manager at Colliers Philippines, noted the higher vacancy and pared down supply in the office market due to the economic disruptions brought about by the coronavirus disease 2019 (Covid-19) crisis.
"Segments that drove demand in the past five years, such as POGOs (Philippine offshore gaming operators) and outsourcing firms, are either vacating spaces or rationalizing their office footprints. Providers of English as a Secondary Language (ESL) services have also been downsizing while some traditional occupiers have closed shop, raising vacancies," Bondoc told the Philippine News Agency (PNA) via email on Monday.
Aside from anemic demand, the Cebu office market is also seeing disruptions in supply with new office completion in 2020 likely to reach its lowest since 2013.
Colliers recommends that landlords be more proactive in responding to tenants' requirements while tenants should complement their office set-up with remote working schemes.
Colliers recorded negative net take-up for the second consecutive quarter as POGOs vacated while BPOs and traditional firms rationalize office requirements.
"We project take-up to remain sluggish for the rest of 2020," Bondoc said.
Colliers sees office rents declining by 5 percent this year due to softer demand and rising vacancy.
As of the third quarter, rents in Cebu's office space averaged PHP654 per square meter.
The rent rates are projected to see a downward pressure even beyond 2020 as vacancy rises to 18 percent in 2021.
Less supply in 2020
"We see new office completions in 2020 for Metro Cebu dropping by 81 percent to 37,300 sq meters (401,300 sq feet) compared to our initial forecast of 194,800 square meters (2.1 million square feet). New supply should pick up in 2021 which should include office buildings that were deferred in 2020," he said.
Colliers projects vacancy to rise to 12.8 percent in 2020 from 11.6 percent in 2019. Vacancies across major business districts such as Mactan Newtown have been rising.
Despite this, Colliers projects a faster pace of recovery in major hubs such as Cebu IT Park and Cebu Business Park once market sentiment improves.
Based on the results of the Tholons Services Globalization Index 2020, Cebu is the 15th most competitive outsourcing destination in the world.
Cebu is one of only two Philippine cities, along with Metro Manila, that made it to Top 100.
"This should sustain Metro Cebu's competitiveness and viability as outsourcing firms continue to scout for locations outside Metro Manila. This should help the region attract more outsourcing locators once the market sentiment improves and contribute to a stronger pace of office leasing beyond 2021," Bondoc said.
Net take-up for Metro Cebu in the first nine months of 2020 turned negative. This is similar to the trend Colliers sees in Metro Manila wherein the vacated space outpaced the occupied offices during the period.
More office spaces are also being vacated as outsourcing firms and providers of ESL services have been closing or downsizing office space requirements as they implement split operations such as work from home arrangements complementing traditional office work, or loss of their offline face-to-face operations because of travel restrictions brought by the pandemic. (PNA)