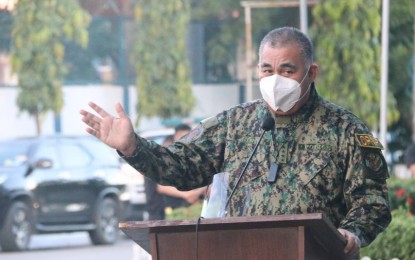 MANILA – The decision to do away with the practice of muzzling police officers' guns for the holiday season aims to prove that they are responsible, the country's top cop said on Monday.
"Hindi na, kasi napagumpisahan na ng mga previous commanders yan na hindi na (gagawin) at naging effective naman. May self-restraint at disiplina na ang karamihan sa amin and proven na maski may tape ka kung gusto mo magbaril, gagawin mo (There is no need for that anymore. It started with previous commanders who decided not to do it anymore and it was proven to be effective. Majority of our police officers now have self-restraint and are disciplined. It was also proven that even if your gun is taped and you want to use it, you will use it)," PNP chief Gen. Debold Sinas told reporters in Camp Crame.
Sinas added that the practice of gun muzzling might hamper police response.
"There are times when you would respond to an incident and you just remembered that your gun is muzzled. You become hesitant and it hampers quick response. So I think this time, majority or all of the policemen were already informed and they have the proper training and discipline so we rely on them and we will not do gun taping anymore," he added.
The PNP's gun muzzling tradition for the yearend revelry was first stopped in 2016, under then PNP chief and now Senator Ronald dela Rosa.
However, Sinas said stiff penalty awaits those who would be involved in indiscriminate firing.
Meanwhile, Sinas said they are now studying the grant of a holiday break for police personnel.
"I will call a command conference with all directorial staff to come up with a final stand on this Christmas break. Personally, I think some of us deserve a break since we have been working tirelessly for the past nine to 10 months. So how we do that and how we implement, we would talk about it," he stressed.
Sinas added that this may be done on a rotation basis.
"We will just finalize things but what is definite is I am in favor of giving our personnel the Christmas break. Maybe one-fourth of the total police force and then we rotate so everybody has the chance to visit their families also during holidays," he added. (PNA)