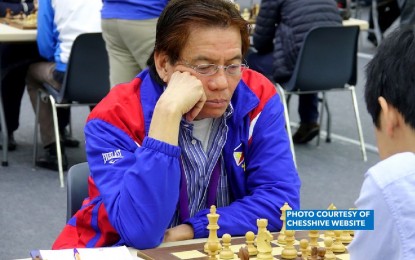 MANILA – Grandmaster (GM) Eugene Torre could very well be the headliner of the first Professional Chess Association of the Philippines (PCAP) draft.
Unless the team has a different plan in mind, Antipolo looks to take the 69-year-old chess wizard as the first overall pick of the draft set to be held at the Quezon City Sports Club on Sunday.
Torre holds the distinction of being the first Asian to earn the grandmaster title and remains among the barometers of how Filipinos should succeed in chess, making him the logical choice as the top draft pick.
If ever the Cobras indeed pass on Torre, however, they still have a bevy of GMs to choose from in Mark Paragua, Joey Antonio, Rogelio Barcenilla, Darwin Laylo, John Paul Gomez, Oliver Barbosa, and Julio Sadorra.
Also part of the draft pool are International Masters (IMs) Rico Mascarinas, Paulo Bersamina, Jan Emmanuel Garcia, Vince Alaan, Yves Ranola, Chito Garma, Ricky de Guzman, Cris Ramayrat, Angelo Young, and John Marvin Miciano, as well as GM candidates Haridas Pascua and Ronald Dableo.
Other titled male players who declared for the draft are Edgardo Garma, Jerome Balico, Mari Joseph Turqueza, Jayson Salubre, Richard Natividad, Ellan Asuela, Cesar Mariano, Elias Lao, Rudy Ibanez, Carlo Lorena, Nelson Mariano III, Emmanuel Emperado, Zulfikar Sali, Deniel Causo, Eric Labog, and Karl Victor Ochoa.
Meanwhile, Women's IM Jodi Foronda headlines the distaff players who threw their names into the draft.
Joining her are WIMs Shania Mae Mendoza and Catherine Perena Secopito and Women FIDE (International Chess Federation) Masters Cherry Ann Mejia, Allaney Dory, Kajoy Acedo, and Mira Mirano.
Iloilo will pick second overall, while QC, the host of the draft proceedings, will choose next at number three.
The rest of the draft order is as follows: Iriga, fourth; Negros, fifth; Cordova, sixth; Rizal, seventh; San Juan, eighth; Mindoro, ninth; Lapu Lapu, 10th; Surigao, 11th; Manila, 12th; Camarines, 13th; Olongapo, 14th; Cabuyao, 15th; Toledo, 16th; Cagayan, 17th; Zamboanga, 18th; General Trias, 19th; Isabela, 20th; Cebu, 21st; Caloocan, 22nd; Pasig, 23rd; and Palawan, 24th.
The inaugural PCAP season will begin on January 12.
Due to the pandemic, matches will be done online. (PNA)