MANILA – Filipino bookworms are getting into the holiday season by incorporating their love of reading into their Christmas decor. Facebook, Instagram, and other social media sites have inspired them to create their own versions of "book trees" or books piled on top of each other to form the shape of a tree.
Since environmentalists are discouraging the use of both real and artificial (plastic) trees, putting up a book tree is a great way to display your favorite literary works while welcoming the yuletide season.
Solejoy Cariaso, 29, first started building her book tree when her book collection reached 100 in 2019. Now she has around 200 books, she decorated this year's book tree with Christmas balls and poinsettias.
"As a book collector and lover, I decided to make a bookworm-themed Christmas tree because this is the only time I get to showcase my collection," she said in an interview with Philippine News Agency.
Most of the books she used to build the book tree were novels and encyclopedias. She topped this year's tree with a Bible.
Solejoy, an elementary and senior high school teacher, has a child of her own now, but her love for young adult books will never grow old. She said it was the Harry Potter series that got her into reading.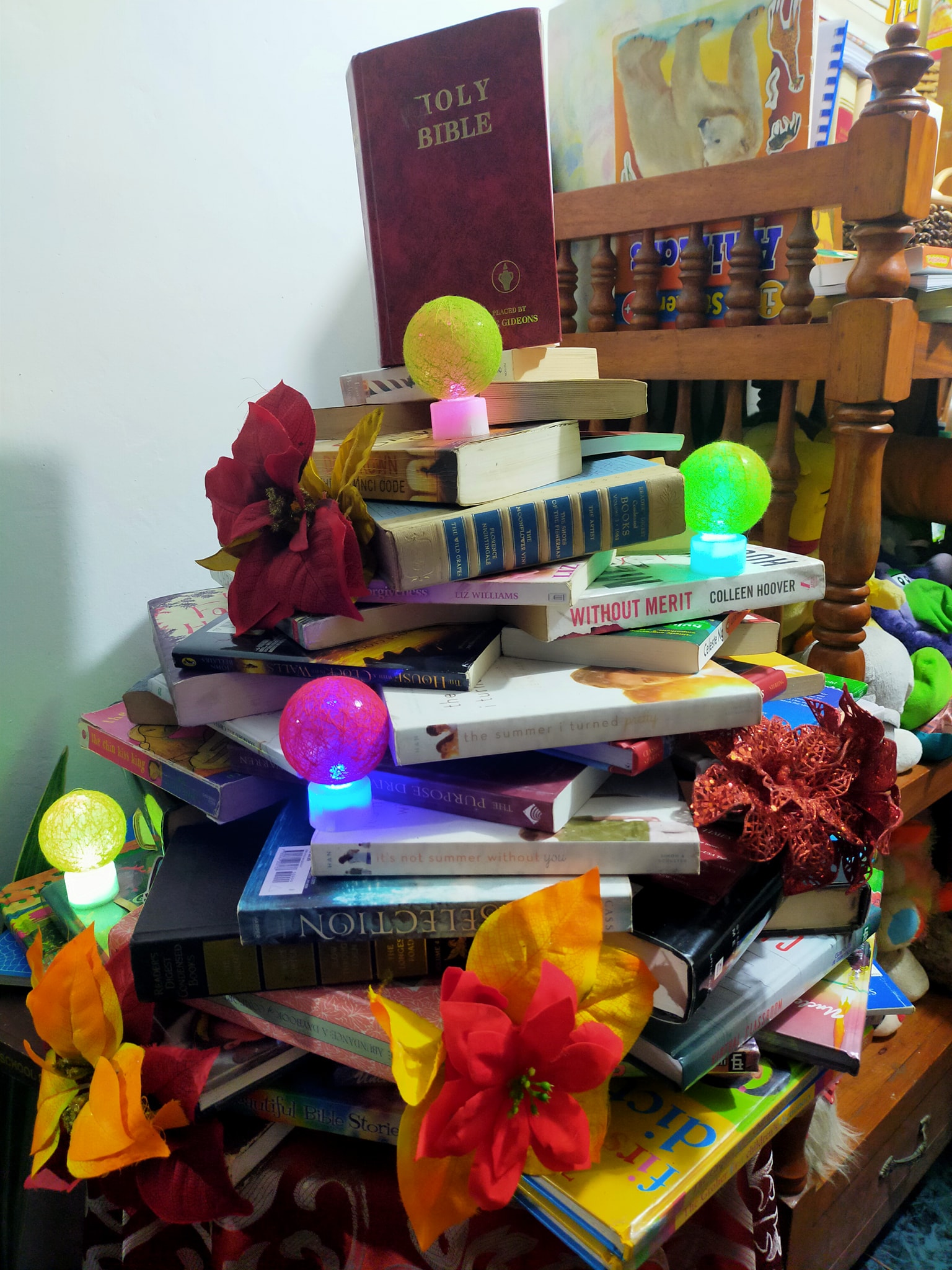 "Parang nakikita ko kasi ung sarili ko kay Harry. Minsan nabu-bully pero push pa rin (I sort of see myself in Harry. He gets bullied but keeps going on). Honestly speaking, sobrang ganda lang din kasi ng plot niya (it just really has a good plot)," she said.
This Christmas, she's hoping to receive the complete Harry Potter set since she only read the e-book version of the series. If not Harry Potter, she said "any (Colleen) Hoover book" will also do the trick.
Joining the book tree-trend this year is Pampanga-based Dyan Laurice Manalo, 28, who decided to finally try it out after seeing photos on the internet.
"It has always been my dream to do this. I love books so much that I even travel with a book sometimes," Dyan said.
She used at least 30 books to build her tree, adding that most of them were donations or prizes she won from contests. She decorated her tree using lights, tinsel, and Christmas balls.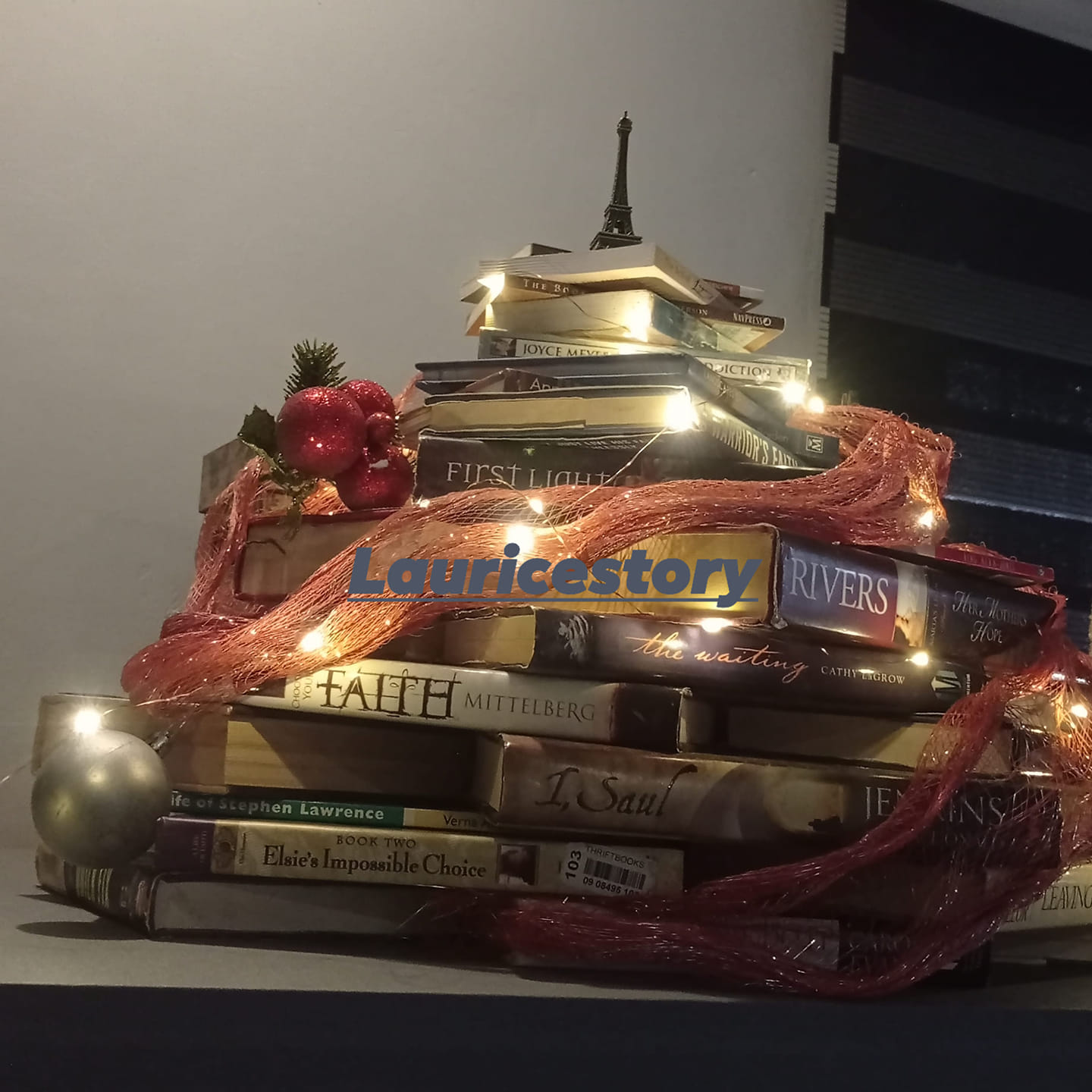 On top of her book tree is a miniature Eiffel tower display stand. She said Paris is her dream destination and that she hopes to be able to visit the popular tourist destination one day.
According to Dyan, the display item was given to her by one of her friends from church, Reg.
Dyan, a frequent bookfair attendee, said she even influenced her friends to join her in quests to win more books.
Jay Teck, 30, decided to skip putting up a book tree this year since their house is currently under renovation. Prior to having a home makeover, Jay said he has been stacking books on top of each other since 2014.
His 2014 book tree was small -- it consisted of roughly 50 books. He decorated his tree using lights, bulbs, and candy canes.
Jay also shared a photo of his book tree on Instagram with the caption quoting American author and radio personality Garrison Keillor, "a book is a gift you can open again and again." Unlike most bookworms who start young, Jay considers himself a late to the party when it came to loving books. Video games were enough to keep him happy back then.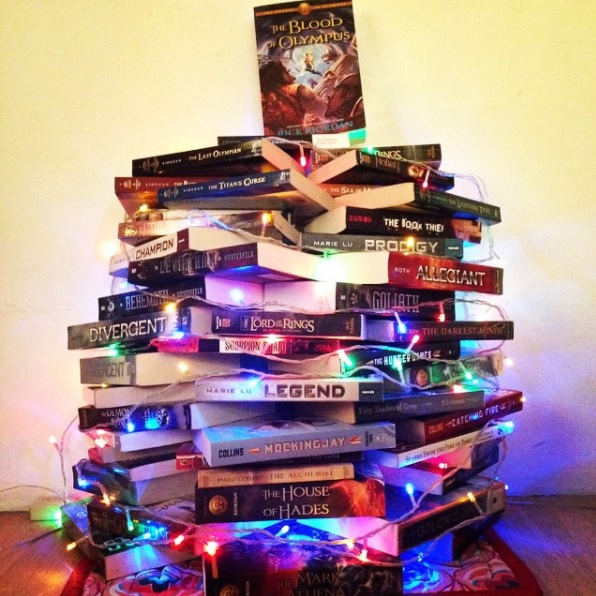 "Before, I never imagined myself willingly reading a book. Then isang araw (one day), I went home from school at kaka-start lang ng pinsan ko gamitin yung (and my cousin started using the) computer. I was so bored sa paghihintay matapos siya. May book siya na baon. Nasa kama lang sa room (waiting for him to finish. He brought a book with him. It was on the bed). It was Lighting Thief by Rick Riordan. I opened it and read it to kill time and next thing I knew, time flew by so quickly," he said.
Jay, a sales representative, finds comfort in reading books in the fantasy or dystopian genre as a way to escape reality and take a breather from stress.
"I always imagine alternate realities, kaya siguro ako hooked sa mga (that's why I'm hooked in the) dystopian genre. Also books that inspire. The next book I want to have is The Next Person You Meet in Heaven by Mitch Albom," he said.
Once renovations are finished, Jay looks forward to building a bigger book tree. As a frequent book fair attendee, he's also hoping to add more books to his growing collection.
To make your own book tree, you must first get your hands on books with different sizes, dimensions, and colors. You can save your favorite books for the top of the tree.
Larger, heavier books like hardbound books can make the base of the tree, while smaller books can be used for the body. Make sure they're sturdy enough so they don't end up crashing down. Keep piling up books in a pyramid-like fashion and stop once you've reached your desired height.
The top of your tree could be your favorite book or ornament of choice. Once done, you can decorate the book tree by draping lights, wrapping it with tinsel, and other ornaments.
Of course, there are other ways to "deck the halls" using books. They can also be stacked to form the shape of Santa, a snowman, or reindeer.
Creating a book tree isn't as difficult as it looks. However, when decorating with lights, bookworms should also remember not to keep them on for too long or overnight. (PNA)