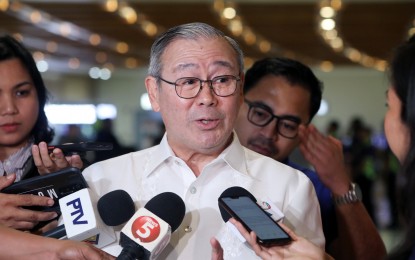 MANILA – Foreign Affairs Secretary Teodoro Locsin Jr. said Monday the country has been assured of 30 million dosages of the Indian-made Novavax coronavirus disease 2019 (Covid-19) vaccine, which would boost the government's efforts to secure vaccine supplies for more than 100 million Filipinos.
In a television interview, Locsin said the Novavax may be expected to be available in July 2021.
"Thirty million dosages of the Indian-made Novavax vaccines are assured, possibly with no cash advance. It will be available by July 2021," he said.
"The term sheet might be signed before the year ends. The good thing though, remember this is not a rumor, is that this is based on a press release made by Serum Institute of India (SII), the giant manufacturer."
The SII produces Covavax, Novavax, Astrazeneca AZ 1222, and an anti-cancer drug that can also be used to contain Covid-19.
Through a tripartite agreement the government has signed with the private sector, the country has secured 2.6 million doses of a coronavirus vaccine developed by British-Swedish multinational pharmaceutical and biopharmaceutical company AstraZeneca.
The government also plans to buy 25 million doses of a vaccine from China's Sinovac Biotech, which will be delivered in March 2021
Negotiations with Moderna and Arcturus Therapeutics Holdings to secure 4 million to 25 million doses of Covid-19 vaccines will begin next week. (PNA)