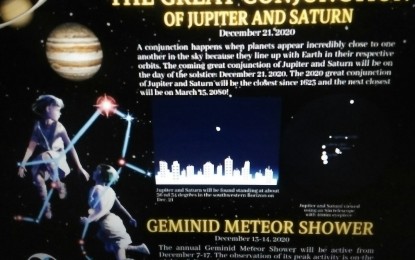 MANILA – The "great conjunction of Jupiter and Saturn" is set to happen before sunset on December 21, the weather bureau said.
Read: 'Star of Bethlehem': Miracle or Science?
According to Philippine Atmospheric, Geophysical and Astronomical Services Administration (PAGASA) administrator Vicente Malano, a conjunction occurs when planets appear close to one another as they line up with Earth in their respective orbits.
"Great conjunctions" are called "great" as they are the rarest, brightest, and closest on the average of conjunction among planets Mercury, Venus, Mars, Jupiter, and Saturn, he said.
The great conjunction on Monday will appear six arc minutes apart, Malano said.
The last great conjunction of Jupiter and Saturn occurred on July 16, 1623, he said, adding that after Dec. 21, 2020, this will be seen again on March 15, 2080.
In a virtual presser on Monday, PAGASA astronomer Mario Raymundo said Jupiter and Saturn would be about 36 degrees and 34 degrees in the southwestern horizon and will be seen among the background stars of the constellation Sagittarius, the Archer.
To view the two planets' atmospheric features, one would need a modest-sized telescope under a dark and clear sky condition.
Raymundo noted that as some people call this conjunction a "Christmas Star", Jupiter and Saturn would be closer to each other on Dec. 25, 2874.
Earlier, he told the Philippine News Agency (PNA) that astronomers use data that allows them to compute when celestial events, such as an eclipse, would take place.
Raymundo also mentioned that the great conjunction coincides with the winter solstice, which he said would occur at 6:02 p.m. on Monday (PST).
Winter solstice, he said, is when the sun lies at its farthest point south of the equator.
"It signals the onset of winter in the Northern Hemisphere, and summer in the Southern Hemisphere. (The) Philippines will have the longest night. Earth has now completed another annual circuit around the sun," Raymundo said. (PNA)