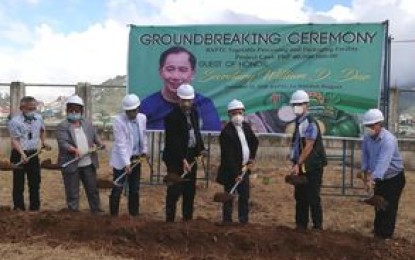 LA TRINIDAD, Benguet – Highland vegetables and other crops produced in the Cordillera Administrative Region (CAR) will no longer be dumped and wasted with the processing and packaging facility of the Department of Agriculture (DA) set to operate in June 2021.
"The facility will be completed and ready to operate in six months," DA Secretary William Dar said at the sidelines of the groundbreaking of the facility inside the Benguet AgriPinoy Trading Center (BAPTC) at this capital town on Tuesday.
The BAPTC is a DA-funded project put up in a Benguet State University (BSU)-owned lot at the strawberry farm managed by the BSU.
Vegetables produced in Benguet, Mountain Province, and Ifugao are brought here for trading locally and transported to other markets like in Metro Manila.
Dar said there will be two activities at the center -- packaging and simple processing.
It will also introduce packaging innovations to be used by traders.
Simple processing will include washing, simple cutting and packing ready to be cooked.
"This is common in western countries, producing ready to cook food and vegetable produce," he said.
Dar said the facility will complement the processing facility of the BSU where noodles and juices, as well as other processed food made of vegetables, are used as base.
"This will elevate the quality of our vegetables and prevent wastage because we can already process them," he said.
Dar also turned over a cheque worth PHP40 million as trading capital for BAPTC.
The money will be used as a revolving fund of the center to purchase vegetables for processing.
The DA allotted a total of PHP80 million for the center to operate at its fullest.
Dr. Violeta Salda, chief of operations of BAPTC, said the new assistance will challenge them to further help and improve the trading and marketing activity at the center to provide better opportunities to farmers.
She also said the facility is eyed as an agri-arm from farmers to direct buyers like groceries, supermarkets and Kadiwa centers. (PNA)